DOTr Maritime Sector implements strict measures on MV Hilma Bulker upon arrival in Manila
MANILA – The maritime sector of the Department of Transportation (DOTr), consisting of the Maritime Industry Authority (MARINA), Philippine Ports Authority (PPA), and the Philippine Coast Guard (PCG), together with the agency members of the One-Stop Shop (OSS) Port of Manila, has implemented strict health and security measures upon the arrival of "MV Hilma Bulker" in the Port of Manila yesterday at around 09:00 AM, 26 May 2021.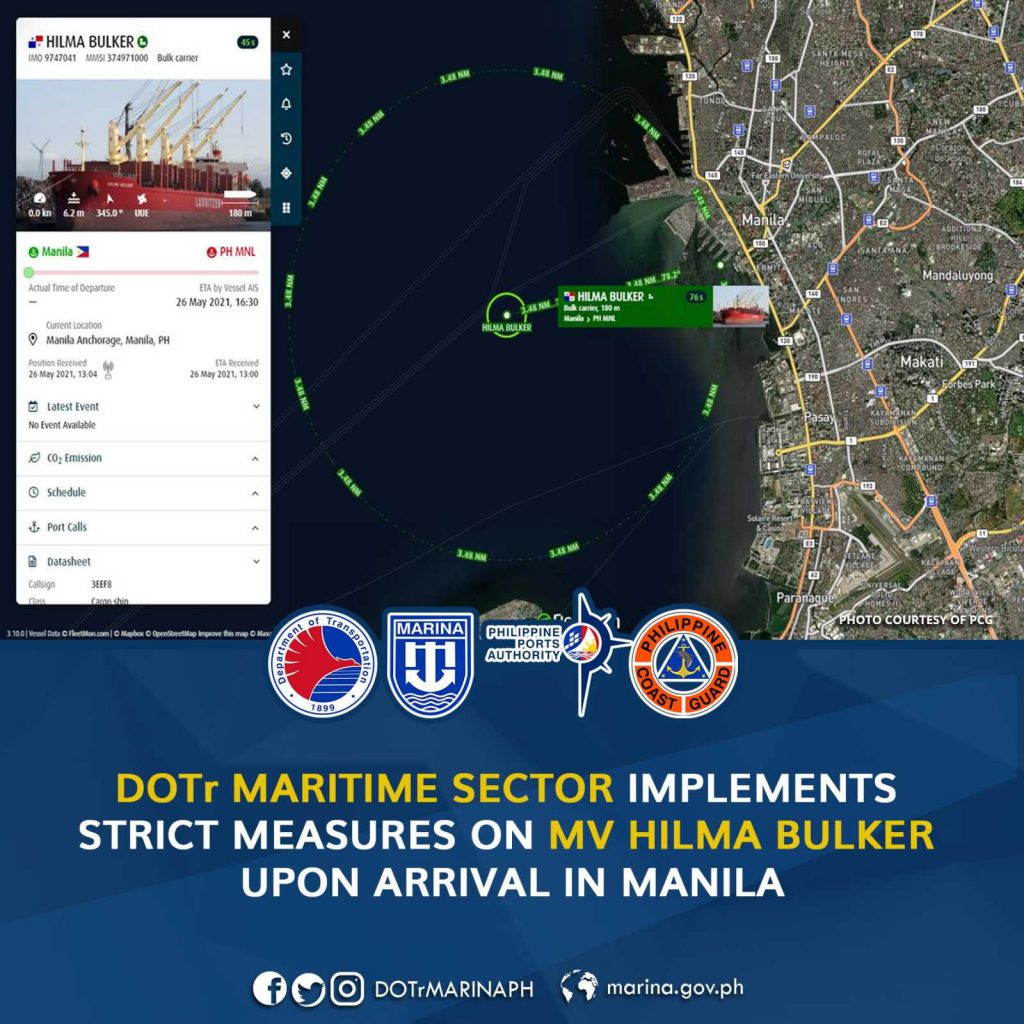 "MV Hilma Bulker" which sailed from Indonesia carried 18 all Indonesian to temporarily replace its original 20 all Filipino crew. The ship arrived in Manila today to employ another batch of all Filipino crew for takeover.
Out of the 20 original crew, 14 tested positive for the Indian variant of COVID-19. Seven (7) have fully recovered and have been given clearance by Indonesian authorities to return to the country, six (6) remain in a hospital awaiting clearance, and unfortunately, one (1) succumbed to the disease.
The six (6) who tested negative in Indonesia already arrived via air in Clark last 18 May 2021 and are completing their mandatory quarantine and testing procedures for returning overseas Filipinos.
Prior to its arrival in Cilacap, Indonesia on 25 April 2021, the ship had previous travel history in Cochin and Kandla in India from 25 March to 17 April for various bunkering and cargo operations.
The Bureau of Quarantine (BOQ) has prepared the necessary measures to handle the disembarkation as a medical evacuation. Once the ship has been thoroughly disinfected, crew change will be conducted and fresh Filipino crew will then be allowed to board.
All disembarking Indonesian crew from the "MV Hilma Bulker" will be considered as individuals that have been exposed to the virus, despite testing negative for COVID-19. They will then be ushered to a stringent quarantine facility where they will undergo a quarantine period of ten (10) days. Those seafarers who will exhibit symptoms or test positive of COVID-19 will be transferred to a dedicated hospital assigned by the BOQ.
The Philippine government, through the DOTr maritime sector, assures the public that it is fully-equipped and always in full force to handle the proper conduct of crew changes in the country. The OSS Port of Manila members are also on alert to provide support and to ensure that health and safety procedures are followed.