MANILA – The Maritime Industry Authority (MARINA), through its Advisory No. 2021-43, has ensured its readiness as it released seafarer-related guidelines for the upcoming Enhanced Community Quarantine (ECQ) in National Capital Region (NCR), as well as other areas nationwide starting 06-20 August 2021.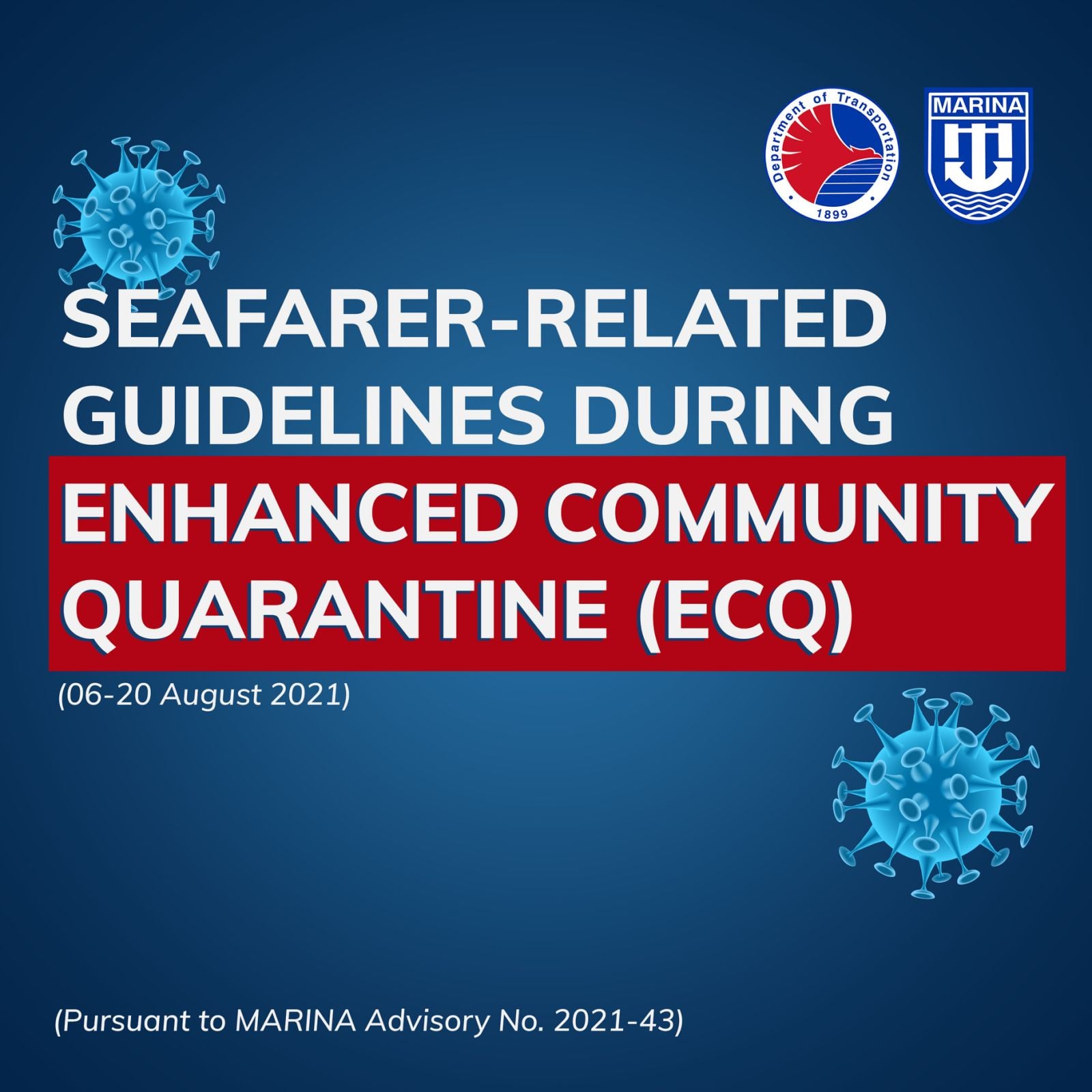 Signed by MARINA Administrator Vice Admiral Robert A Empedrad, the Agency came up to implement the said guidelines for the conduct of trainings, examination and assessments, and issuance of STCW certificates, pursuant to the IATF Resolution No. 130-A, Series of 2021, issued on July 29, 2021, and Omnibus Guidelines on the Implementation of Community Quarantine in the Philippines.
Under the issuance of STCW certificates, only expedite applications for COC/COP of seafarers will be processed at the MARINA Central Office during the ECQ. Only those seafarers who have confirmed appointments for expedite application with complete expedite requirements (including verified flight ticket within two days from date of application) will be processed during ECQ at the MARINA Central Office, Port Area, Manila.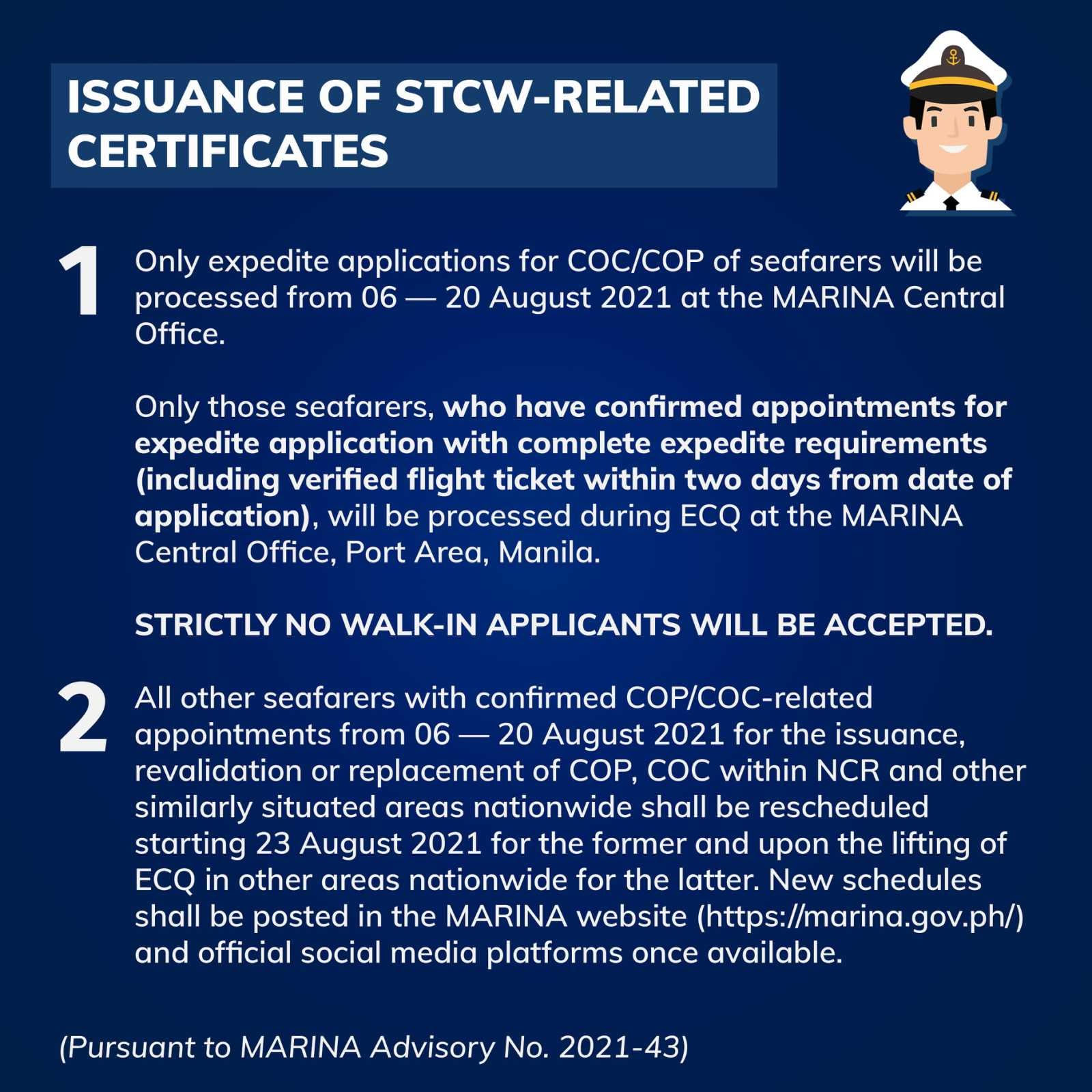 All other seafarers with confirmed COP/COC-related appointments from 06-20 August 2021 for the issuance, revalidation or replacement of COP, COC within NCR and other similarly situated areas nationwide shall be rescheduled starting 23 August 2021 for the former and upon the lifting of ECQ in other areas nationwide for the latter. New schedules shall be posted in the MARINA website (https://marina.gov.ph/) and official social media platforms once available.
MARINA strictly reminds its maritime stakeholders that no walk-in applicants will be accepted during the ECQ period.
On the other hand, under the conduct of training, all scheduled face-to-face classes and practical assessments of all Maritime Training Institutions (MTIs) located in the NCR and other similarly situated areas, shall be suspended. Affected MTIs are advised to reschedule the affected classes/assessments to a later date. Upon lifting of the ECQ, MTIs are directed to implement their Post- ECQ Operation Plan before resuming their operations.
Aside from training, all scheduled Theoretical Examinations starting August 06, 2021 at the MARINA Central Office will be temporary suspended, as well. All affected examinees scheduled from August 06-13, 2021, will be moved to August 02-05, 2021 and will be notified thru SMS/email.
MARINA clarifies that for seafarers, who are scheduled from 16-31 August, 2021, a new schedule of Theoretical Examination shall be provided by the Examination & Assessment Division (EAD) of the STCW Office to affected examinees through SMS/emails once the ECQ is lifted. However, online & Final Evaluations for Theoretical Examination will still continue, as scheduled, since they can be done through online and no personal appearance is needed at the MARINA Central Office.
Meanwhile, on the conduct of assessments, the Assessment Centers (ACs) within the NCR and other similarly situated affected areas, shall likewise be suspended during the ECQ period. Same as the Theoretical Examinations, online & Final Evaluations for Practical Assessment will also push through online since personal appearance is also not needed.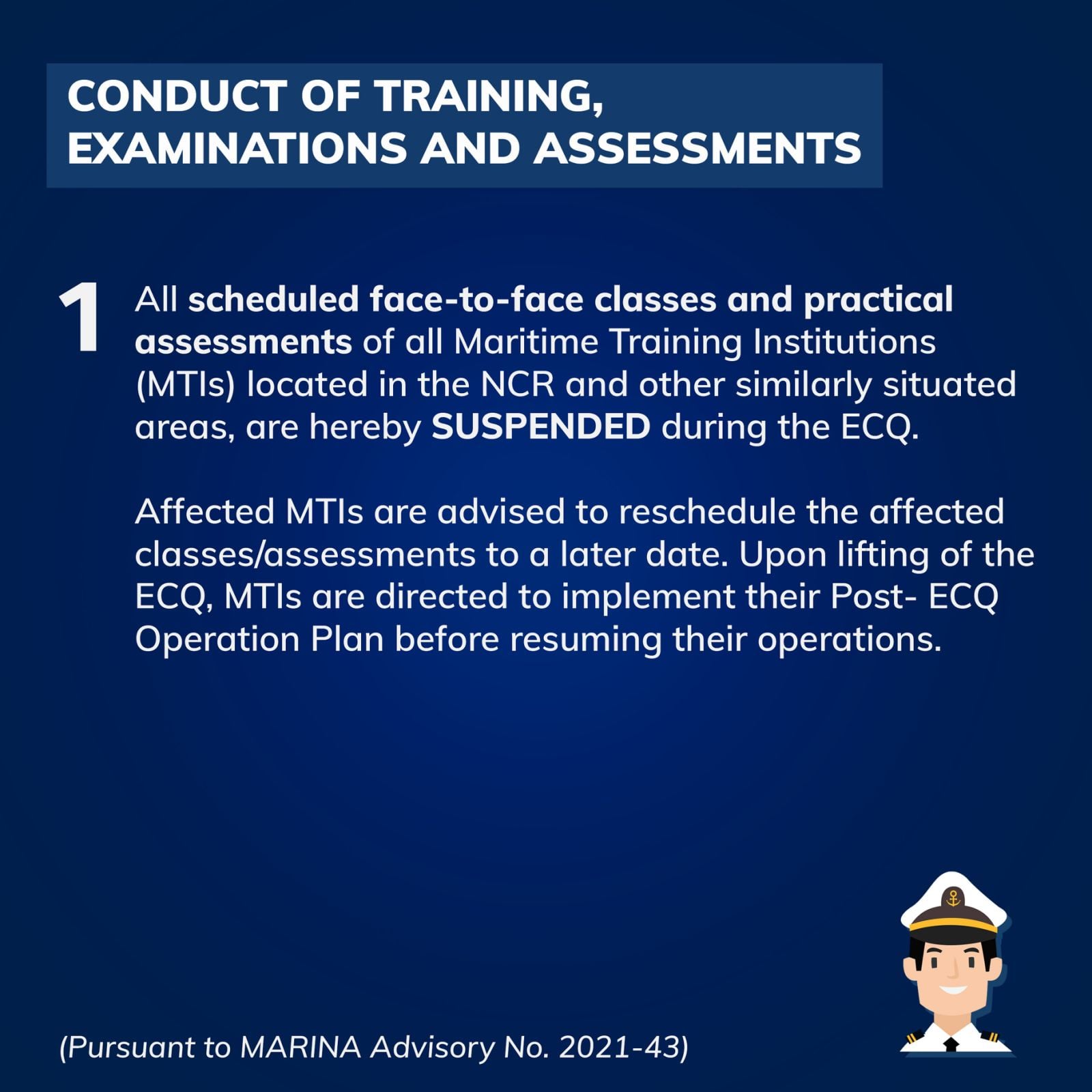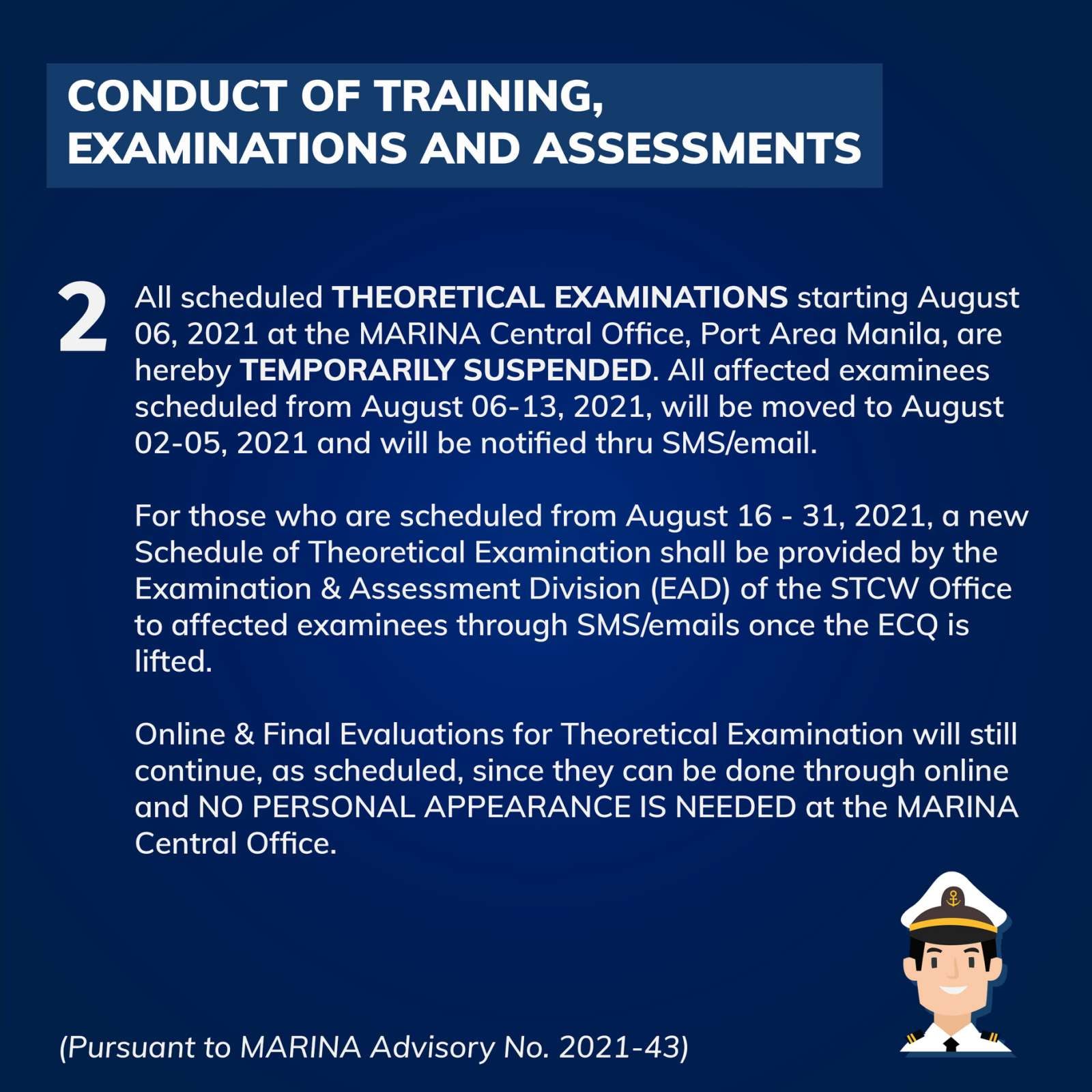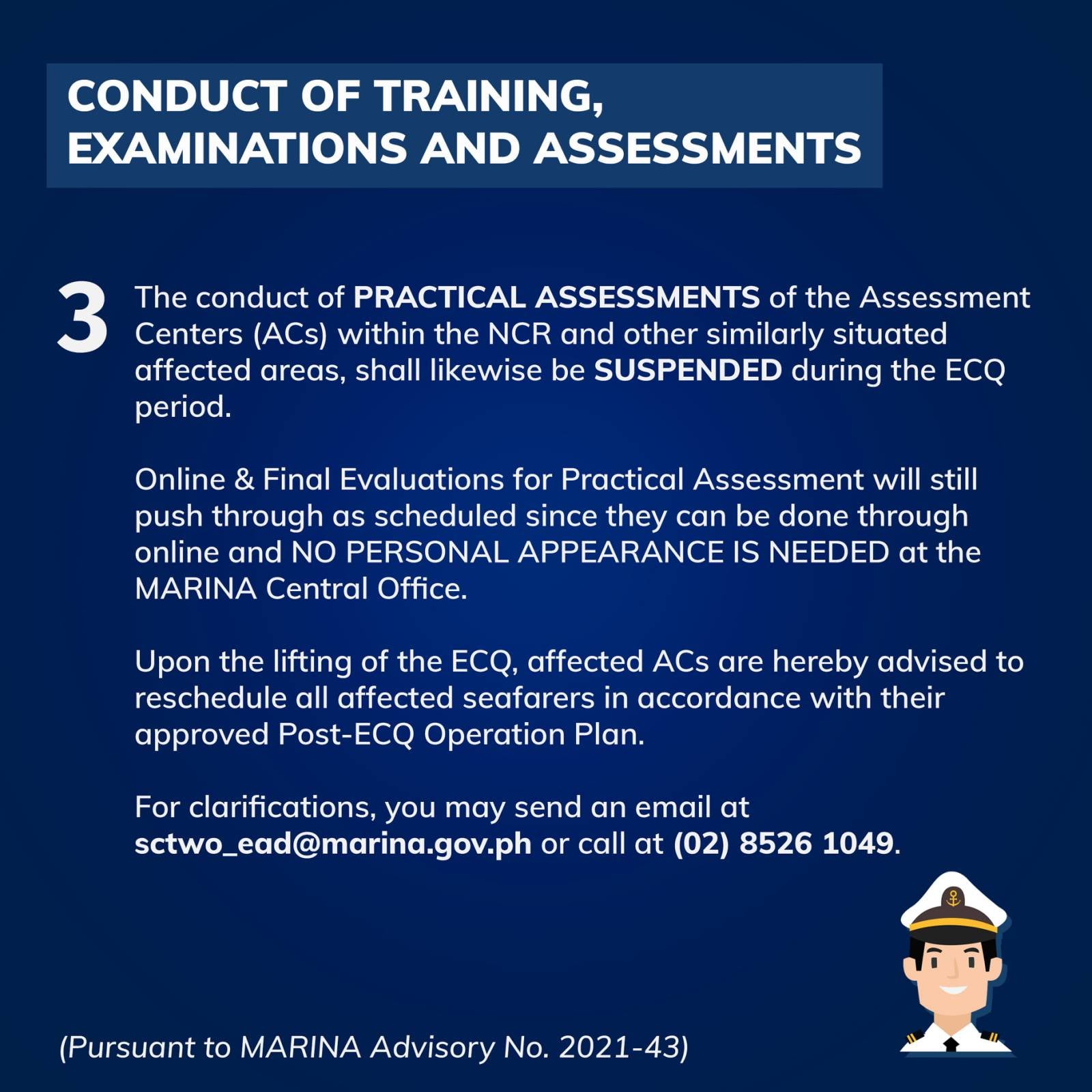 Upon the lifting of the ECQ, affected ACs are hereby advised to reschedule all affected seafarers in accordance with their approved Post-ECQ Operation Plan.
All stakeholders are enjoined to report to the Surveillance Division, STCW Office with email address, [email protected] or [email protected] those institutions who failed to comply with this Advisory.
Inquiries and concerns of seafarers and maritime institution/s can be lodged via the following email addresses: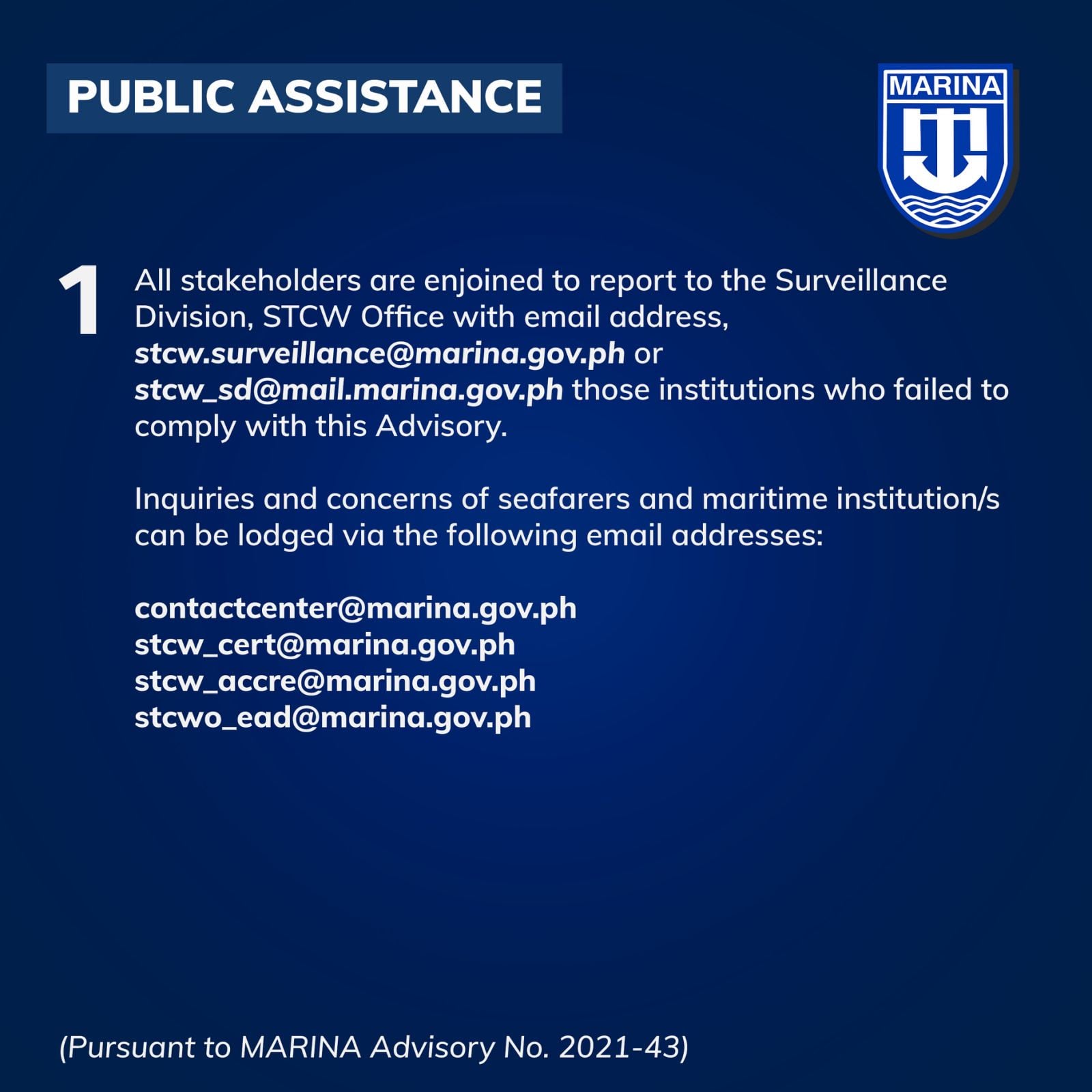 Rest assured that the MARINA will still continue to serve the public, specifically the seafarers and stakeholders, despite the implemented community restrictions on the span of 15 days of ECQ.