Dir. Sonia B. Malaluan
---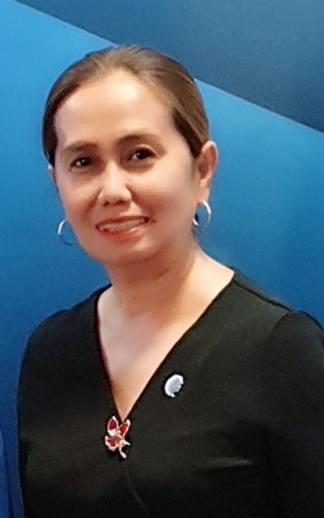 SONIA B. MALALUAN
Maritime Attache
London, United Kingdom
Ms. Sonia Bautista Malaluan has been appointed Maritime Attache in London since December 2018. As Maritime Attache, her primary responsibilities include, among others, representation in meetings at the International Maritime Organization (IMO) and other conventions, meetings & conferences and provide advisory and technical assistance activities to the Head of Mission on matters relating to flag administration, seafarers administration and shipyard regulations. She has served MARINA for more than 30 years in various capacities. Her extensive professional career at MARINA includes serving as Director of Domestic Shipping Service, as Regional Director at MARINA Regional Office 1 & 2 in La Union, as Director of Manpower Development Service, as Officer-in-Charge and eventually Director of Management, Finance and Administrative Service, as Chief at the Planning and Policy Service, as Chief Accountant of MARINA for more than 7 years and as Executive Assistant, Office of the Administrator for about 8 years, under four (4) MARINA Administrators. She started in MARINA as Management and Audit Analyst 1 in Nov. 1989.
Ms. Sonia has been a representative or delegate of MARINA to different international fora, including: Technical Cooperation Committee and Facilitation Committee Meetings of the International Maritime Organization (IMO), the ASEAN Senior Transport Officials Meetings (2014, 2015) and ASEAN Maritime Technical Working Group Meetings (2014). She also led the successful Philippine hosting of conferences such as Diplomatic Conference for the Adoption of the Amendments to the STCW 1978 Convention, now known as the Manila Amendments, the National Forum of Domestic Ships in 2013, the International Conference on Safety of Ships Carrying Passengers in Non-International Voyage in 2015 and the Women in Asia Conference in 2015. She has attended numerous and various management, leadership, technical, administrative and financial training/seminars locally and abroad.
She has played a major role in MARINA's organizational changes such as the assumption of functions pursuant to Executive Order Nos. 125/125-A, establishment of the MARINA Regional Office I & 2, MARINA Extension Office in Palawan, MARINA Rationalization Plan initiatives, the initial phases MARINA's assumption of the STCW-related functions. As a staunch advocate of women empowerment and equality, she is a member of the Women in Maritime Association, Philippines, former President of WIMAPhil, MARINA Sub-Chapter and now Treasurer of the Women in Maritime –Asia (WIMA-Asia). She is a Certified Public Accountant (CPA) and holds a Master's Degree in Public Administration(MPA) from Lee Kuan Yew School of Public Policy, National University of Singapore; and a Master of Science Degree in Shipping Management from the World Maritime University in Sweden.