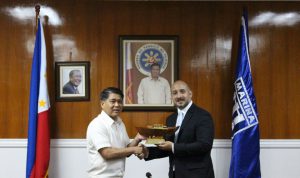 MARINA Administrator Rey Leonardo B Guerrero offers a token of appreciation to H.E Jorge Barakat Pitty, Minister of Maritime Affairs, Republic of Panama on the latter's visit to the MARINA Central Office, today, 21 May 2018. Minister Pitty was accompanied by Ambassador Rolando A Guevara Alvarado, Embassy of the Republic of Panama in the Philippines together with officials of the Panamanian Government
Panamanian Registry is very important for the Philippines noting that approximately 60% of Filipino seafarers are on-board Panamanian registered ocean going ships.
Both Administrator Guerrero and Minister Pitty agreed to continue deepening the existing maritime bonds between the Philippines and Panama, spanning over decades of friendship, as well as to strengthen collaboration on initiatives that are mutually beneficial for both countries.