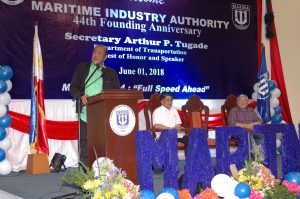 For the first time in many decades, a Secretary of the Department of Transportation graces an Anniversary celebration of the Maritime Industry Authority (MARINA).
MARINA sincerely expresses its most profound appreciation to Atty. Arthur P. Tugade, Secretary of Transportation, for writing a new chapter of the history of the MARINA, particularly for his presence and his inspiring message at 44th Anniversary celebration of the Agency, yesterday evening, 01 June 2018.
Secretary Tugade also donated P hp 44,000.00 from his personal pocket, for raffle to officials and employees.
This is also the first time that key officials from the Department of Transportation joined the MARINA for this important event, such as Undersecretary for Maritime, Felipe A Judan ( second from left), Assistant Secretary for Maritime, Fernando Juan C. Perez, (4th from right) and Undersecretary for Administration and Finance, Atty. Garry V de Guzman ( 2nd from right).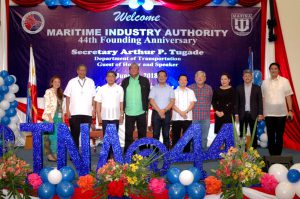 Likewise present are members of the MARINA Board: Atty. Jay Santiago,(5th from left), General Manager, Philippine Ports Authority, Engr. Samuel Lim (5th from right) and Mr. Christopher B Pastrana (right most).
MARINA officials in photo are: STCWO Deputy Executive Director, Atty. Vera Joy S Ban-eg, (left most), Administrator Rey Leonardo B Guerrero (3rd fom left) and Deputy Administrator Nannette Z. Villamor- Dinopol, (3rd from right).