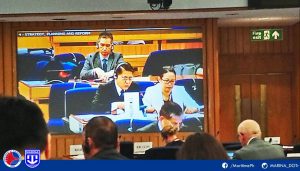 The Philippines through MARINA Administrator Rey Leonardo B Guerrero conveyed yesterday, 02 July 2018, its support for the inclusion of " number of serious incidents per year and per vessel type" as a new performance indicator for maritime safety in the Strategic Plan, 2018-2023 of the International Maritime Organization (IMO) which is currently having the 120th Session of the IMO Council, London, United Kingdom from 02 – 06 July 2018.
MARINA's attendance at this IMO meeting is part of the Philippines' commitment being one of the forty members of the IMO Council, the executive body responsible for supervising the work of the Organization.
The Philippines belongs to category C which means it is one among the 20 IMO Member States that have special interests in maritime transport or navigation and whose election to the Council will ensure the representation of all major geographic areas of the world.
There are 10 Member States that belong each to Category A and B. Member States under Category A are those with the largest interest in providing international shipping services while those in Category B are Member States with the largest interest in international seaborne trade.
While in London, Administrator Guerrero will also meet with representatives of the European Commission (EC) to provide updates on the status of Philippines' compliance with the outstanding issues that the European Maritime Safety Agency (EMSA) has raised on the country's maritime education, training and certification system, as well as to re-assure them of our continuing commitment to meet the country's obligations under the International Convention on Standards of Training, Certification and Watchkeeping for seafarers 1978, as amended otherwise known as the STCW Convention for seafarers.