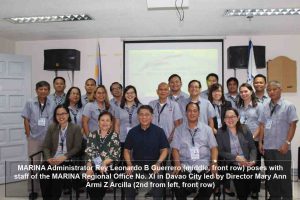 In a visit to the Maritime Industry Authority (MARINA) Regional Office 11 today, 3 August 2018, MARINA Administrator Rey Leonardo Guerrero announced that more MARINA regional offices will soon accept applications for theoretical examinations.
This move aims to address the deluge of applicants at the Cebu and Davao regional offices, and STCW Office in Manila. When implemented, applicants can just go to the nearest regional office to submit their requirements.
During the meeting, Guerrero also expressed his support for the MARINA Regional Office 11's promotional and development efforts.  He also affirmed his trust and confidence to all MARINA personnel and encouraged further dedication and commitment in servicing the maritime industry.