Posted on MANILA Times
By: Brenda V. Pimentel
---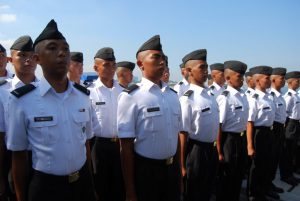 Photo By: AMOSUP
One issue, which prominently figures in maritime discussions in this archipelago, pertains to the Filipino seafarer. One moment he is esteemed and appreciated for the considerable dollar remittances he sends back to the country, which help, prop up the economy. He offers a sense of pride to the country. At another time he is mocked for his timidity due to ambivalence in assuming higher positions onboard. These are generally what are articulated in many of the fora I have attended although I believe the latter circumstance is more of an exception.
If there is any trade the Filipino would have to anchor on, it will be seafaring. The Filipino seafarer is already in the global workforce before any other professionals the country produced. He was in the galleon, he was onboard the balanghay which reached up to China during the olden times. The "Manilamen" as Filipino seafarers were then known, regardless of their province of origin (there are not yet provinces then, probably), were in Australia, Europe and Asia engaged as ship's crew. And to this time he persists although in a much-controlled environment.
The Filipino seafarer's education and training, qualification and certification, deployment, welfare and retirement attract much attention from various interests, this I understand is because of the value attached to him and according to the benefits generated by his employment. His family would have in any way exerted some influence in the decision for him go to sea; and the rest of those who will help him build up his seafaring career would have varying reasons. Yet, one thing is sure, they all want the Filipino seafarer to succeed in his profession.
How is it then that despite decades of prepping up Filipino seafarers for a career at sea and despite the significant number said to be certificated and currently deployed, not many are able to assume the highest positions on board, i.e. they remain in the second highest spot in the ship hierarchy? There are those who say the Filipino seafarer is content with the wage he earns which is already way above what his shore-based counterparts are paid. Others submit he lacks self-confidence, in what sense and for what reason, few would offer to speculate.
Self-confidence is commonly defined as self-assurance in one's personal judgment, ability, power among others and which are qualities expected of one who will command a million dollar asset at sea. Self-confidence could be developed from experiences, which make one believe he has mastered particular activities. These basic concepts bring to mind the policy of one law school, which treats its students during the four years course as if they are lawyers. Students dress up, though not extravagantly, as if they are lawyers. They are expected to speak, act and to carry themselves confidently as lawyers do. They are encouraged to reason out to their professors. The perception that legal studies are mostly of memory work finds no basis in that it is mostly a matter of understanding the legal texts and to undertake problem-solving exercises.
These concepts of developing self-confidence should be useful in educating future merchant marine officers.
They may look good in their crisp school uniforms; they look like young marine officers, indeed, but are they prompted to visualize themselves as captains and chief engineers? I have asked some students and all they can tell me is that they are going to become seafarers after completing their studies, no one mentioned about getting to the top more specifically; they are just aiming to go to sea. That is how far they see themselves.
I understand maritime students go through some physical and exhaustive exercises as part of the preparations to sea life. The requirements for education and training of seafarers stipulated in the International Convention for the Training, Certification and Watchkeeping for Seafarers (STCW) are more clearly delineated as operational or management level. Going up the hierarchy of positions/ranks is such that one has to pass through a series of theoretical and shipboard training, examination and assessment. Yet, are they seen as captains and chief engineers or simply "seafarers"?
At a time when shipping faces shortage of officers, the Philippines must exert all efforts to fill the global demand. Let's give the Filipino seafarer the quality of education and training that will make him a "seafarer of choice" and more importantly build in him the confidence to believe he has what it takes to command a ship.