MARINA Press Release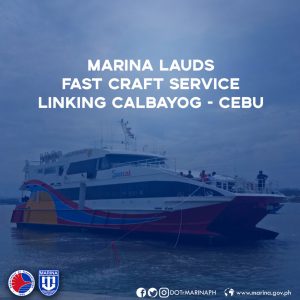 ---
MANILA, PHILIPPINES — The Maritime Industry Authority (MARINA) lauds the brand new fast craft service that will link Calbayog City, Samar and Cebu City, Cebu for the first time.
MV Sea Cat One, a 300-seater air-conditioned vessel managed by VS Grand Ferries Corporation, will offer two daily trips from Calbayog to Cebu and vice-versa. It is targeted to be operational on September 2018.
The five-hour travel time via the new fast craft service is significantly faster compared to the usual 12-hour travel time en routing Calbayog-Cebu.
MARINA Administrator Rey Leonardo Guerrero recognized the sincerity and commitment of the VS Grand Ferries Corporation and the local government of Samar in improving sea transportation.
"This strong and responsive effort is what the DOTr and the MARINA look forward to from all its partners and stakeholders. Undeniably, development like this contributes to the transformation of the Philippines into a more connected nation through an efficient sea transport system," MARINA Admin. Guerrero said.
VS Grand Ferries Corporation is a newly-registered corporation and duly-accredited by the MARINA.
The MARINA recognizes the support of the Department of Finance (DOF) in the continuous provision of incentives through the grant of VAT exemption on the acquisition of MV Sea Cat One.
Pending its operations, the shipping personnel are undergoing vessel operations and management training in a shipyard in Balamban, Cebu.
With this development, the MARINA encourages new players and investors in the country's domestic shipping industry through the modernization of local ships— making them globally-competitive and technologically-responsive.