MARINA Press Release
---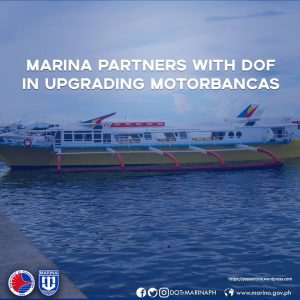 MANILA, PHILIPPINES — The Maritime Industry Authority (MARINA) partners with the Department of Finance (DOF) in pushing for the MARINA's motorbanca upgrading campaign. It will commence next month.
As the MARINA and DOF encourage the upgrading of wooden vessels into fiber-reinforced plastic (FRP) boats, motorbanca owners may avail of the Municipal Development Fund (MDF) from the DOF's Municipal Development Fund Office (MDFO) upon the discretion of their respective LGUs.
Through the MDF, motorbanca owners may have a more effective and reliable structure for their vessels, ready for the future implementation of MARINA's policy on modernizing the domestic shipping industry.
The MDF was initially allocated to provide concessional financing assistance to LGUs with revenue-generating sub-projects and other infrastructure projects. With the MARINA-DOF partnership, the local maritime industry will now be included in the disbursement of the fund.
The motorbanca upgrading campaign is in line with the MARINA's 10-year Maritime Industry Development Program (MIDP) that involves the modernization of domestic ships through strengthening of the capability of local shipyards and fostering the construction of more Philippine-constructed ships.
"The full implementation of the upgrading of motorbancas can only be achieved through strong collaboration and support from national and local government units. This partnership with the DOF is a good start for us," MARINA Domestic Shipping Service (DSS) Director Sonia Malaluan said.
Aside from the DOF, the MARINA's motorbanca upgrading campaign is also supported by the Boating Industry Association of the Philippines (BIAP), Office of Transportation Cooperatives (OTC), Development Bank of the Philippines (DBP), and Landbank of the Philippines (LBP).
#DOTrPH ??
#MARINAPH
#MaritimeSectorWorks