MARINA Press Release
---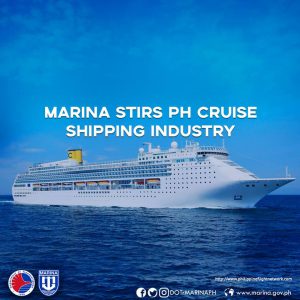 MANILA, PHILIPPINES — The Maritime Industry Authority (MARINA) stirs local cruise shipping industry as it endorses the acquisition and operation of cruise ships in the Philippines.
"We are encouraging companies to operate cruise ships in the Philippines. By stirring the cruise shipping industry, we aim to advance local maritime industry through the boosting of Philippine tourism," MARINA Administrator Rey Leonardo Guerrero said.
However, despite the advocacy to venture into local cruise shipping industry, the MARINA assures it will be uncompromising in the regulating the industry.
Come September 2018, the MARINA will implement strict policies for the acquisition and operation of local cruise ships to ensure maritime safety and security, one of which is the rule on the accreditation of cruise ships.
To guarantee the quality of ships plying over the Philippine seas, the MARINA will only accredit cruise ships that are operational for not more than 20 years.
Moreover, cruise ships, whether newly-built or previously-owned, are required to be classed by the International Association of Classification Societies (IACS) to warrant its adherence to technical standards and requirements, ensuring maritime safety and environmental protection.
While all Philippine cruise ships are required to be manned by Filipino seafarers, the MARINA is open for granting special permits to foreign cruise ships to engage in local cruise shipping industry in areas that are not serviced by local cruise ships.
#DOTrPH ??
#MARINAPH
#MaritimeSectorWorks