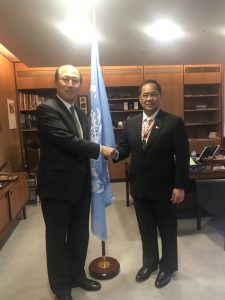 LONDON, UNITED KINGDOM – The Maritime Industry Authority (MARINA) remained optimistic after meeting with International Maritime Organization (IMO) Secretary General Kitack Lim to present the 10-year maritime industry development program (MIDP), during the margins of the IMO Council in London, 19-23 November 2018.
The MIDP is a roadmap that guides the Philippines to attain it's goal of becoming a nationally integrated and globally competitive maritime nation. The MARINA is mandated to formulate this MIDP pursuant to Presidential Decree No. 474, series of 1974.
MARINA Officer-in-charge Vice-Admiral Narciso Vingson Jr. highlighted the major programs under the MIDP which includes, among others, the development of an international maritime hub; development of coastal and Inland Waterway Transport System; Philippine Maritime Safety Enhancement; and Establishment of Maritime Information Management and Technology Center.
For his part, Secretary General Lim commended the MARINA for its effort to come up with the MIDP and expressed optimism on the future of the Philippine maritime industry.
Vice-Admiral Vingson also met with representatives of the European Commission (EC) to provide updates on the country's continuing compliance with the noted areas of improvement in the Assessment Report of the EC relating to the country's implementation of the International Convention on Standards of Training, Certification and Watchkeeping (STCW) for seafarers 1978, as amended.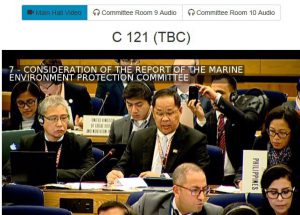 Finally, the MARINA expressed its appreciation to top Filipino seafarer-employing nations for their support to the Philippines' plans and programs in producing world-class and competent seafarers. ###