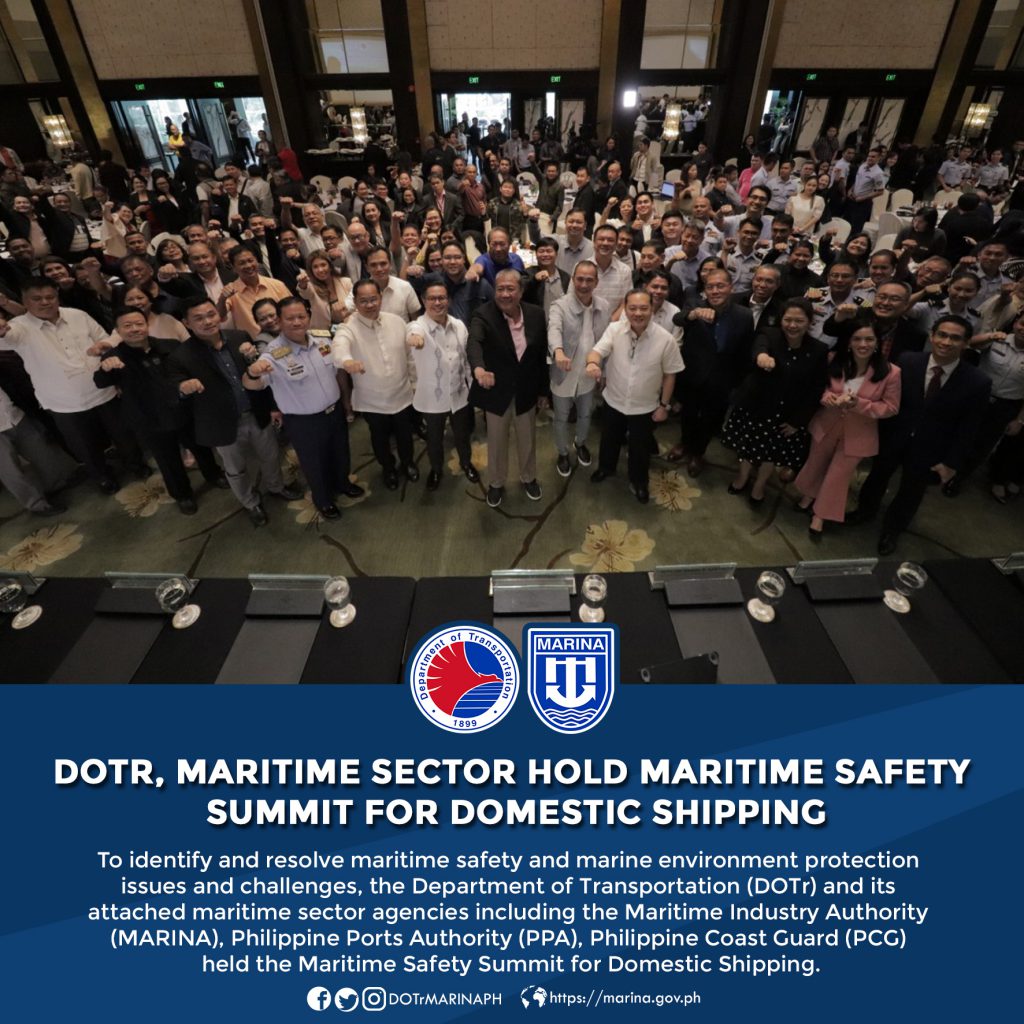 MANILA, PHILIPPINES – To identify and resolve maritime safety and marine environment protection issues and challenges, the Department of Transportation (DOTr) and its attached maritime sector agencies including the Maritime Industry Authority (MARINA), Philippine Ports Authority (PPA), Philippine Coast Guard (PCG) held the Maritime Safety Summit for Domestic Shipping today, 30 August 2019.
With the theme "Creating a Culture of Safer People, Safer Ships and Cleaner Environment," the summit served as an avenue to discuss the safety of Philippine domestic shipping industry and to ensure the participation of stakeholders in identifying strategies and measures to address maritime safety challenges, and agree to support its eventual implementation.
Transportation Secretary Arthur Tugade said that the government cannot fully uphold maritime safety without the cooperation of private partners and stakeholders.
"I hope magkaroon 'ho ng matamis at magandang bunga itong summit na ito para sa kapakanan ng bayan, para sa kapakanan ng mga mananakay, at sa kapakanan ng mga gumagamit ng karagatan. Let safety not be a matter of convention, symposium, or fora. Safety should be a day-to-day matter of concern, a matter of attitude, and a matter of culture and advocacy." Tugade said.
For his part, MARINA OIC – Administrator Vice Admiral Narciso A Vingson Jr emphasized that the concept of a nationally integrated and globally competitive maritime industry is the effective integration of all stakeholder policies, plans, programs, operations, and resources in terms of geographical, spatial, functional, and institutional dimensions.
"As champions of domestic shipping in the country, the whole maritime sector plays a very significant role in ensuring that people, goods and cargoes are transported safely, securely and on time, without sacrificing our marine resources in the process," Vice Admiral Vingson said.
Vice Admiral Vingson encouraged the whole of maritime sector to talk and act together for the growth and development of our maritime industry – one that is safe, efficient and modern; one that upholds a culture of safer people, safer ships, and cleaner environment.
Maritime agencies' contributions on maritime safety
The MARINA presented its roadmap for the enhancement of maritime safety, specifically the issues and concerns, followed by proper interventions of its "ship safety process" — the ship acquisition, ship deployment, and the ship retirement.
Moreover, the PPA shared its "one ticketing system" that will provide convenience and benefits to the users of the port through online services and ease of doing business. Getting rid of fixers and scalpers while instituting port process improvement for maritime safety and security were also introduced.
Finally, the PCG highlighted their contributions in enhancing the maritime safety and security enforcement and protection of marine environment through fluvial parades, responses to grounding accidents, vessel safety enforcement inspections, pre-departure inspections, and calibration activity with MARINA.