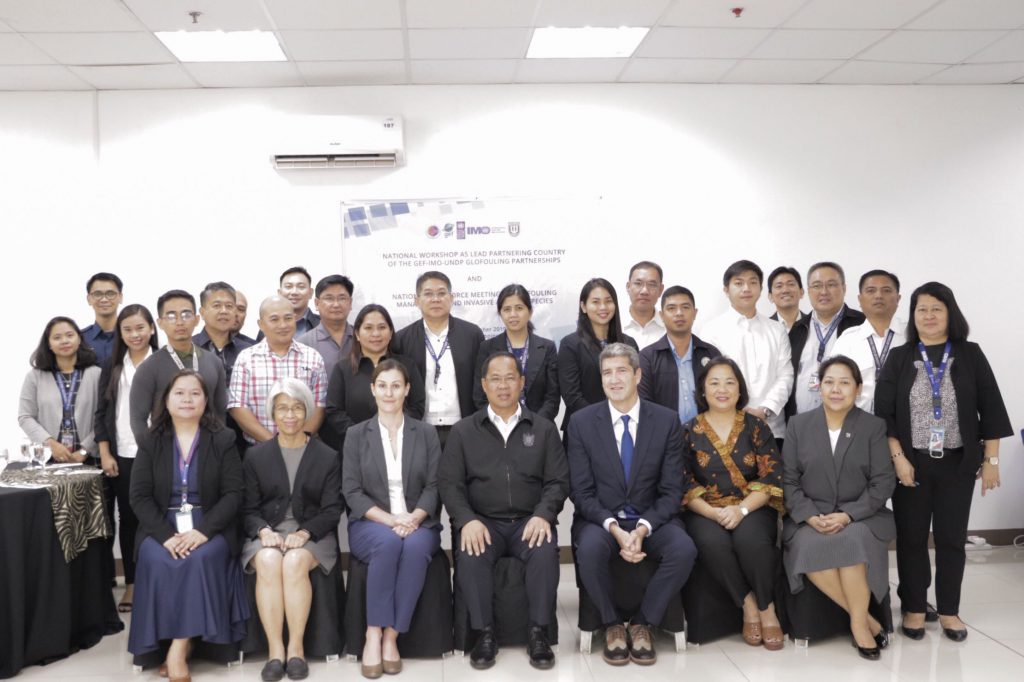 MANILA, PHILIPPINES – To raise awareness on the negative effects of invasive species to the marine environment, the Philippines, through the Maritime Industry Authority (MARINA), is hosting the National Workshop and Task Force Meeting on GloFouling Partnerships Project on 12 to 13 September 2019.
The said activity is intended to present an overview of the GloFouling Partnerships Project and to bring together the national stakeholders who will be part of the National Task Force and to discuss the National Work Plan.
In his opening remarks, MARINA OIC – Administrator Vice Admiral Narciso A Vingson Jr expressed appreciation for the implementation of the five-year project to address the transfer of aquatic invasive species caused by biofouling of ships through capacity building of developing countries such as the Philippines.
"It is imperative that we identify our respective agencies' roles and responsibilities to ensure the full and complete implementation of related conventions; know the composition of the national task force; and ensure that all relevant agencies are involved in the creation and finalization of the national work plan," MARINA OIC – Administrator said to participating government agencies.
During the activity, Mr. John Alonso of the IMO GloFouling Project Coordination Unit spearheads the discussion regarding the project's structure and partners, role of Lead Partnering Countries such as the Philippines, international regulatory status on biofouling, key elements for the development of a national strategy, introduction and review of legal policy, and capacity building activities at a national level.
Likewise, Assistant Director Sonia Gorgula of the Australia's Department of Agriculture and Water Resources discusses about invasive species and their impacts, biofouling, and development of a national policy on biofouling management and marine biosafety.
Regional expert and Executive Director of the Partnerships in Environmental Management for the Seas of East Asia (PEMSEA) and the country's Project Coordinator, on the other hand, report about the regional and national status of the GloFouling Partnerships Project.
Aside from representatives from the IMO, Australia's Department of Agriculture and Water Resources, and PEMSEA, the National Workshop and Task Force Meeting are attended by representatives from the Department of Foreign Affairs (DFA), Philippine Coast Guard (PCG), Philippine Ports Authority (PPA), MARINA, Bureau of Fisheries and Aquatic Resources (BFAR), Subic Bay Metropolitan Authority (SBMA), Cebu Port Authority (CPA), University of the Philippines – Institute of Environmental Science and Meteorology (UP-IESM), and UP – Marine Science Institute (UP-MSI).
The GloFouling Partnerships Project responds to the implementation of the United Nations Sustainable Development Goal (SDG) 14 which is to "conserve and sustainably use the oceans, seas and marine resources for sustainable development", SDG 13 which is to "take urgent action to combat climate change and its impact", and SDG 15 which is to "protect, restore and promote sustainable use of terrestrial ecosystems, sustainably manage forests, combat desertification, and halt and reverse land degradation and halt biodiversity loss".
#DOTrPH
#MARINAPH
#MaritimeSectorWorks