MARINA reiterates precautionary measures during severe weather disturbances
---
MANILA, PHILIPPINES – To ensure the safety of life and property at sea and to protect the marine environment, the Maritime Industry Authority (MARINA) reiterated all the precautionary measures needed to be followed by all shipowners and operators during severe weather disturbances.
As Typhoon Tisoy (International Name: Kammuri) intensifies inside the Philippine Area of Responsibility (PAR), the MARINA reminds all shipowners and operators on the following measures: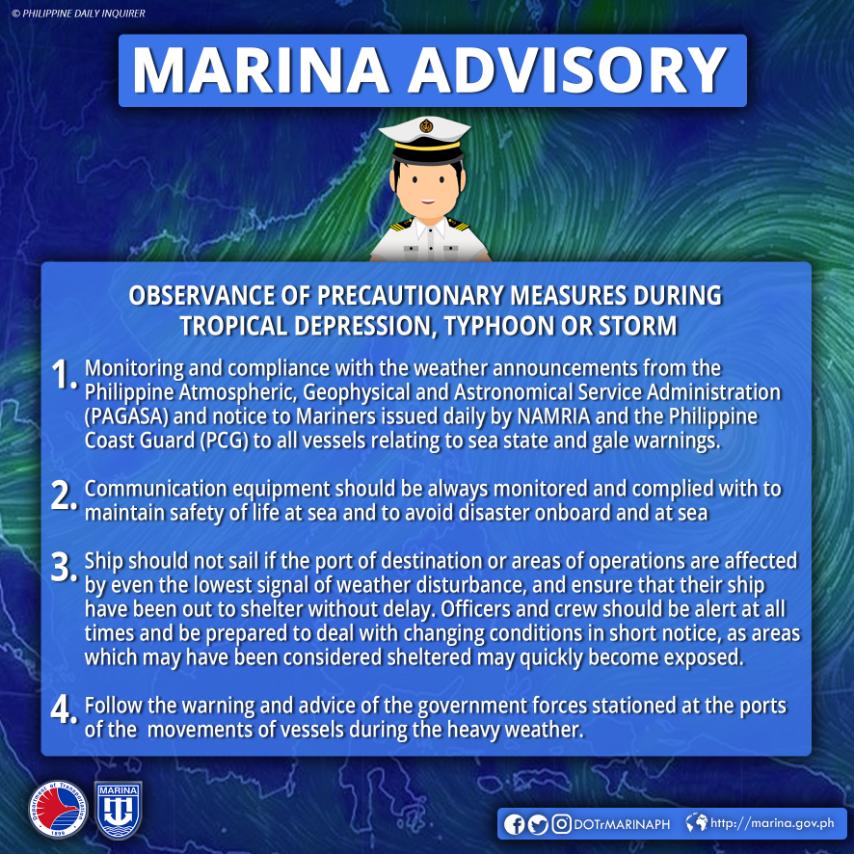 1. Monitoring and compliance with the weather announcements from the Philippines Atmospheric, Geophysical and Astronomical Service Administration (PAGASA) and Notice to Mariners issued daily by National Mapping and Resource Information Authority (NAMRIA) and the Philippine Coast Guard (PCG) to all vessels relating to sea state and gale warnings.
2. Communication equipment should be always monitored and complied with to maintain safety of life at sea and to avoid disaster onboard and at sea.
3. Ship should not sail if the port of destination or areas of operations are affected by even the lowest signal of weather disturbance, and ensure that their ship have been out to shelter without delay. Officers and crew should be alert at all times and be prepared to deal with changing conditions on short notice, as areas which may have been considered sheltered may quickly become exposed.
4. Follow the warning and advice of the government forces stationed at the ports of the movement of vessels during the heavy weather.
Finally, the public is also enjoined to cooperate with the safety measures to achieve zero maritime casualty.
###