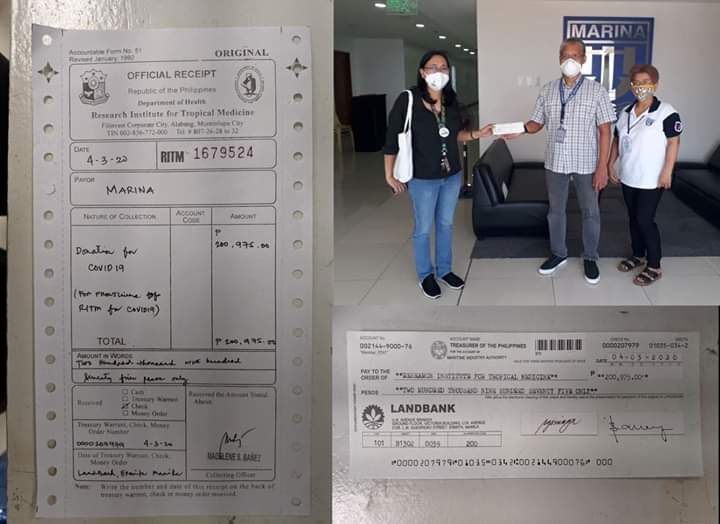 LOOK: MARINA OIC Deputy Administrator for Planning Arsenio Lingad II, together with Nancy Soriaga of Cash Section of the MARINA-GSD, represented the agency during a simple hand-over of the Land Bank of the Philippines (LBP) check from the senior officials and staff of the MARINA Central Office, who voluntarily donated their one-day salary for April 2020 amounting PhP 200,975.00 to Ms. Madeline Banes of the Cashier Deparment of Research Institute for Tropical Medicine (RITM) at the MARINA building on 03 April 2020.
The purpose of this donation is to provide a 2-day pledge of meals for 1,000 RITM personnel.
The MARINA has also donated meals for our frontliners in Fabella Hospital.
Furthermore, some of the MARINA Regional Offices (MROs) senior officials and staff have pledged their salaries amounting PhP 214,341.59 to different hospitals in their respective regions.
The MARINA has still the remaining amount of P220,000.00, which will also be donated to our frontliners.
These are the agency's humble ways of helping our new heroes in their fight against COVID-19.