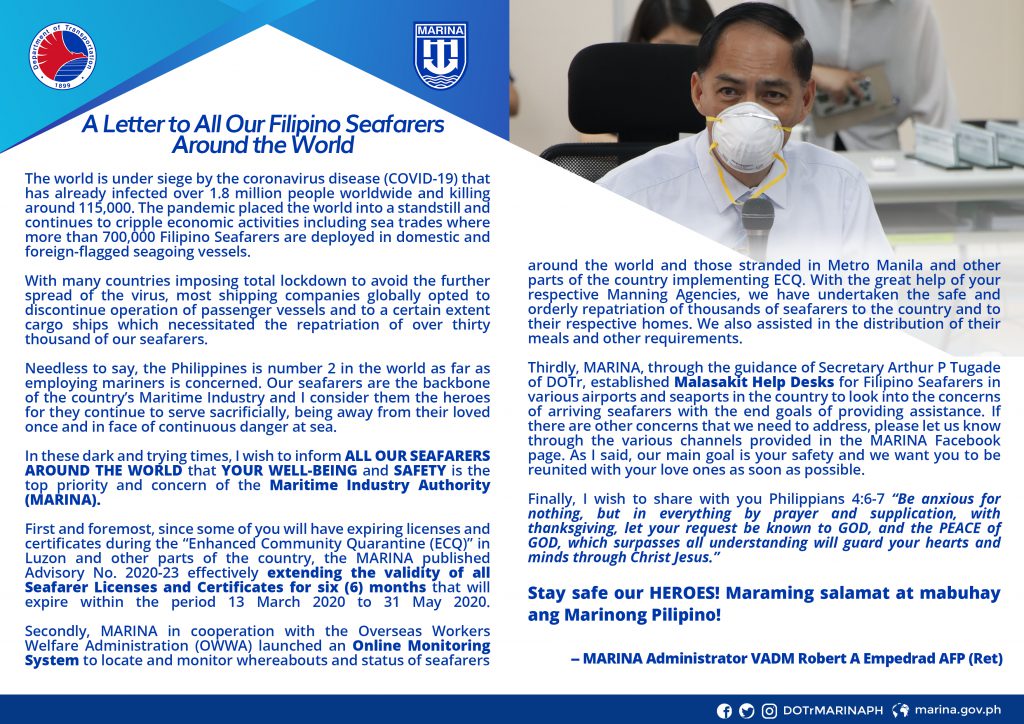 The world is under siege by the coronavirus disease (COVID-19) that has already infected over 1.8 million people worldwide and killing around 115,000. The pandemic placed the world into a standstill and continues to cripple economic activities including sea trades where more than 700,000 Filipino Seafarers are deployed in domestic and foreign-flagged seagoing vessels.
With many countries imposing total lockdown to avoid the further spread of the virus, most shipping companies globally opted to discontinue operation of passenger vessels and to a certain extent cargo ships which necessitated the repatriation of over thirty thousand of our seafarers.
Needless to say, the Philippines is number 2 in the world as far as employing mariners is concerned. Our seafarers are the backbone of the country's Maritime Industry and I consider them the heroes for they continue to serve sacrificially, being away from their loved ones and in face of continuous danger at sea.
In these dark and trying times, I wish to inform ALL OUR SEAFARERS AROUND THE WORLD that YOUR WELL-BEING and SAFETY is the top priority and concern of the Maritime Industry Authority (MARINA).
First and foremost, since some of you will have expiring licenses and certificates during the "Enhanced Community Quarantine (ECQ)" in Luzon and other parts of the country, the MARINA published Advisory No. 2020-23 effectively extending the validity of all Seafarer Licenses and Certificates for six (6) months that will expire within the period 13 March 2020 to 31 May 2020.
Secondly, MARINA in cooperation with the Overseas Workers Welfare Administration (OWWA) launched an Online Monitoring System to locate and monitor whereabouts and status of seafarers around the world and those stranded in Metro Manila and other parts of the country implementing ECQ. With the great help of your respective Manning Agencies, we have undertaken the safe and orderly repatriation of thousands of seafarers to the country and to their respective homes. We also assisted in the distribution of their meals and other requirements.
Thirdly, MARINA, through the guidance of Secretary Arthur P Tugade of DOTr, established Malasakit Help Desks for Filipino Seafarers in various airports and seaports in the country to look into the concerns of arriving seafarers with the end goals of providing assistance. If there are other concerns that we need to address, please let us know through the various channels provided in the MARINA Facebook page. As I said, our main goal is your safety and we want you to be reunited with your love ones as soon as possible.
Finally, I wish to share with you Philippians 4:6-7 "Be anxious for nothing, but in everything by prayer and supplication, with thanksgiving, let your request be known to GOD, and the PEACE of GOD, which surpasses all understanding will guard your hearts and minds through Christ Jesus."
Stay safe our Heroes! Maraming salamat at Mabuhay ang Marinong Pilipino!
– From MARINA Administrator Vice Admiral Robert A Empedrad AFP (Ret)