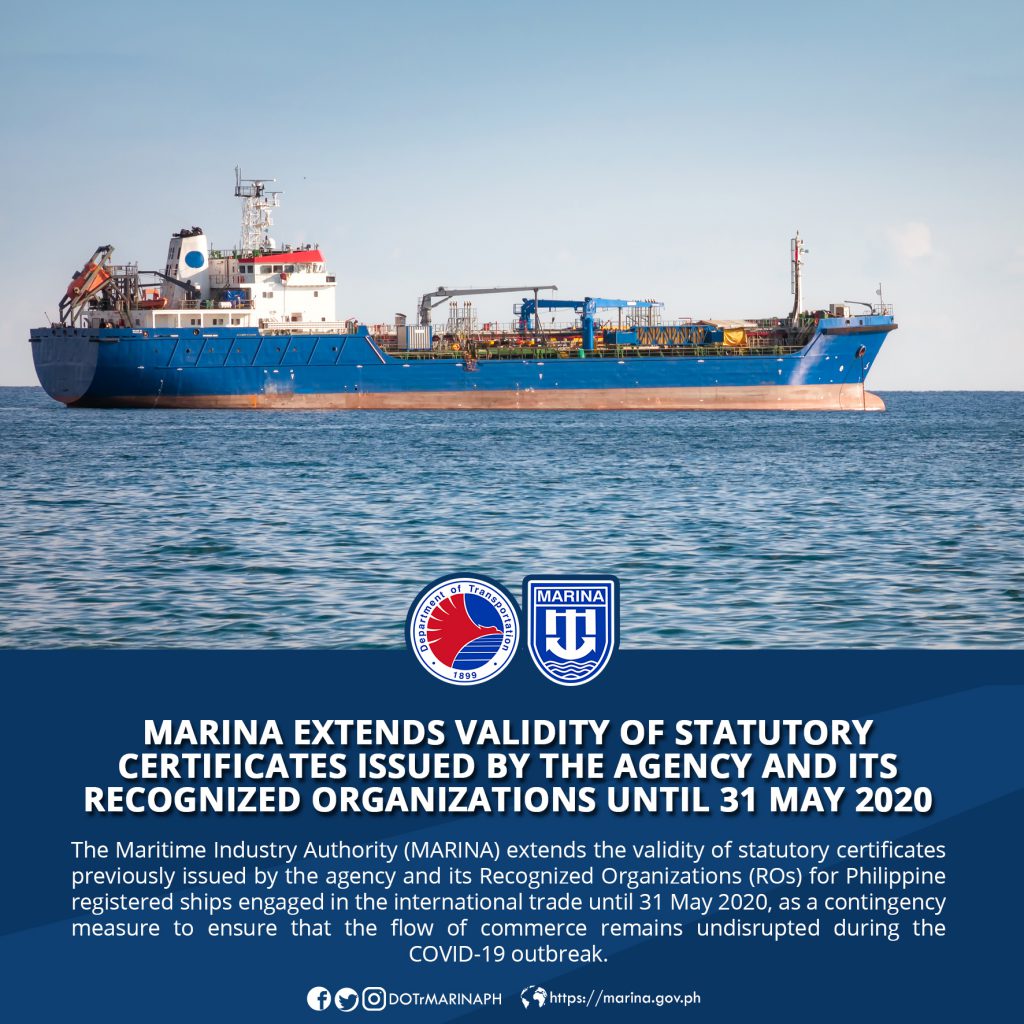 MANILA, PHILIPPINES – The Maritime Industry Authority (MARINA) extends the validity of statutory certificates previously issued by the agency and its Recognized Organizations (ROs) for Philippine registered ships engaged in the international trade until 31 May 2020, as a contingency measure to ensure that the flow of commerce remains undisrupted during the COVID-19 outbreak.
"This is in support of the call of the International Maritime Organization to adopt and apply practical and pragmatic approach to ensure the uninterrupted trade by sea specially at this unprecendented time," MARINA Administrator Robert A Empedrad AFP (Ret) said.
MARINA Advisory No. 2020-025 exhorts all stakeholders to exert all reasonable efforts to ensure that certificates are kept valid and inspections are performed. However, this blanket extension of certificates until 31 May 2020 was made in response to numerous inquiries from shipowners and ROs regarding the postponement of inspections and requests to extend the validity of mandatory certificates.
Port and travel restrictions imposed in order to contain the spread of the pandemic have made it difficult for inspectors to carry out with the inspections, despite being pre-arranged and scheduled.
This Advisory complements MARINA Advisory No. 2020-023 on the further extension of the validity of STCW Certificates of Filipino seafarers currently serving onboard seagoing ships. MARINA assures all stakeholders that the agency is closely monitoring the situation of the global COVID-19 outbreak to ensure that all Filipino seafarers are protected and that Philippine registered ships engaged in international trade shall continue its operations given these unusual circumstances.