DOTr-MARINA outlines procedures on ship crew changes, repatriation of seafarers amid coronavirus crisis
MANILA – The Department of Transportation (DOTr), through the Maritime Industry Authority (MARINA), has outlined the procedures on ship crew changes and on the repatriation of seafarers in foreign-registered or Philippine-registered vessels docked in international ports or seaports under the jurisdiction of the Philippines amid the coronavirus disease (COVID-19) pandemic.
Prior to this, the MARINA Board issued a resolution on 23 April 2020 which recognizes seafarers as "key workers" alongside the other essential workers during the pandemic.
The Inter-Agency Task force for the Management of Emerging and Infectious Diseases (IATF-MEID) also issued a resolution on 13 May 2020 recognizing the plight of overseas Filipino workers (OFWs) – seafarers included – by directing all government agencies to fast-track the processing of their employment documents and facilitate their deployment during this health crisis.
Transportation Secretary Arthur Tugade said all available assistance should be extended to Filipino mariners as they are also considered as frontliners in the fight against the coronavirus pandemic.
Secretary Tugade said that aside from making sure that Filipino seafarers will not be hampered from embarking and disembarking from their vessels during ship crew changes in recognition of their roles as "key workers" and as frontliners in the global fight against the coronavirus, they must also be given protection and assistance, especially during crucial moments as when changing ship crews.
"We need to set all the procedures in place to guarantee the safety of our Filipino mariners especially during crucial moments as ship crew changes where they are vulnerable to the coronavirus. We must give them every bit of protection and assistance as any other frontliner in the global fight against COVID-19," said Secretary Tugade.
The actions taken by the Philippine government are in response to the request of the International Maritime Organization (IMO) for governments to keep shipping and supply chains open and grant special travel exemptions to seafarers in response to the COVID-19 pandemic.
In a Circular Letter issued 30 March 2020, the IMO called on governments to designate professional seafarers and marine personnel, regardless of their nationalities, as "key workers" who provide an essential service.
Referring to the issue of crew changes, the IMO said professional seafarers and marine personnel should be granted any necessary and appropriate exemptions from national travel or movement restrictions to allow them to join or leave ships, and that governments should permit professional seafarers and marine personnel to disembark ships in port and transit through their territory (i.e. to an airport) to allow crews to be changed and seafarers to be repatriated.
"We cannot overemphasize the indispensable role of the shipping industry especially in this time of the pandemic. In the midst of the immeasurable suffering and chaos brought about by this health crisis, ships are quietly transporting cargoes of basic commodities such as grain, coal, oil and most importantly, medical supplies," MARINA Administrator Vice Admiral Robert Empedrad said.
"Around 100,000 such ships carry almost 95% of the world trade. These ships are operated by close to 1.5 Million seafarers; 378,000 of which are Filipinos. Like doctors and nurses, seafarers have continued to work day and night while combatting fear, anxiety and great risk to their own health to keep the world trade afloat." VADM Empedrad added.
Meanwhile, MARINA has assured that the procedures on crew changes and on the repatriation of seafarers are being done in compliance with the existing safety and health protocols set by the Department of Health (DOH), and the quarantine protocols being enforced by the Bureau of Quarantine (BOQ) and the DOTr.
MARINA added that the procedures on crew changes and the repatriation of seafarers also follow the procedures recommended by the IMO as contained in its Circular Letter No.4204/Add.14 dated 5 May 2020, with subject "Coronavirus (COVID-19) – Recommended framework of protocols for ensuring safe ship crew changes and travel during the coronavirus (COVID-19) pandemic."
"With the support and cooperation of all concerned government agencies and the private sector, especially the licensed manning agencies, we commit to fully implement this protocol in order to facilitate the crew change and repatriation of our beloved seafarers while safeguarding their safety and health." VADM Empedrad said.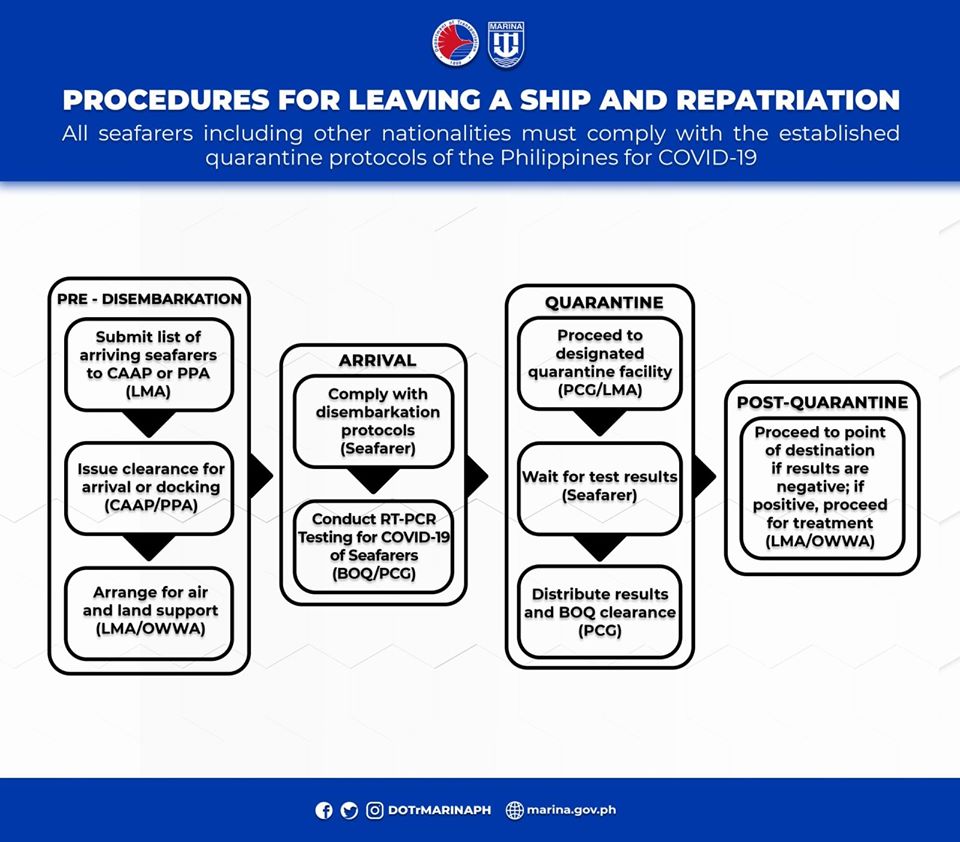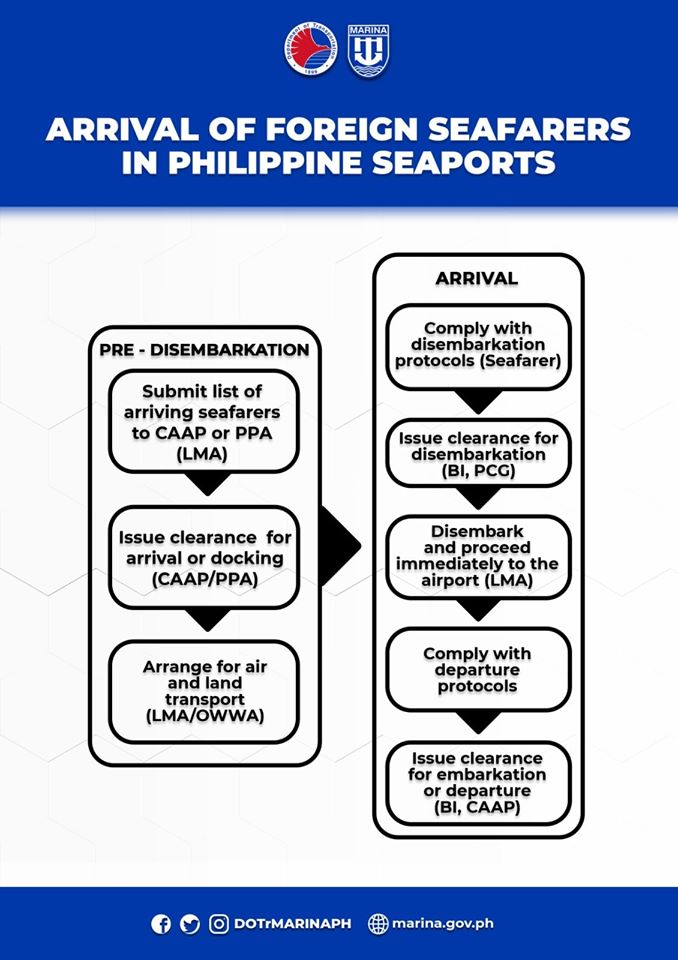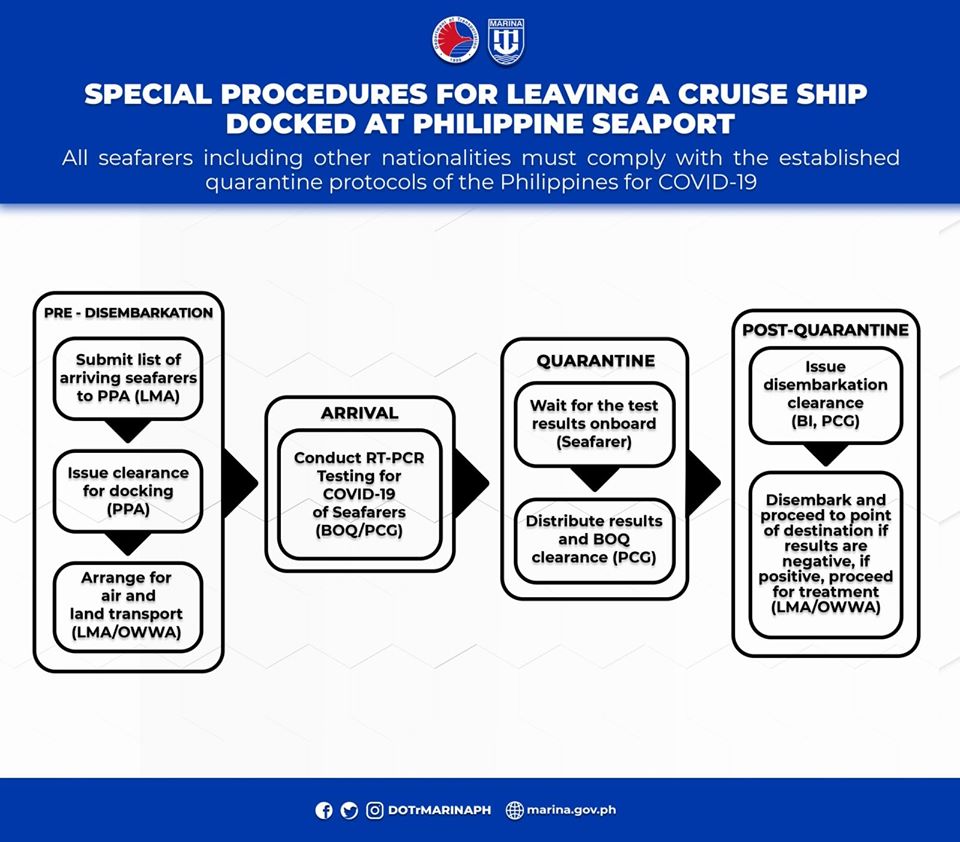 ###