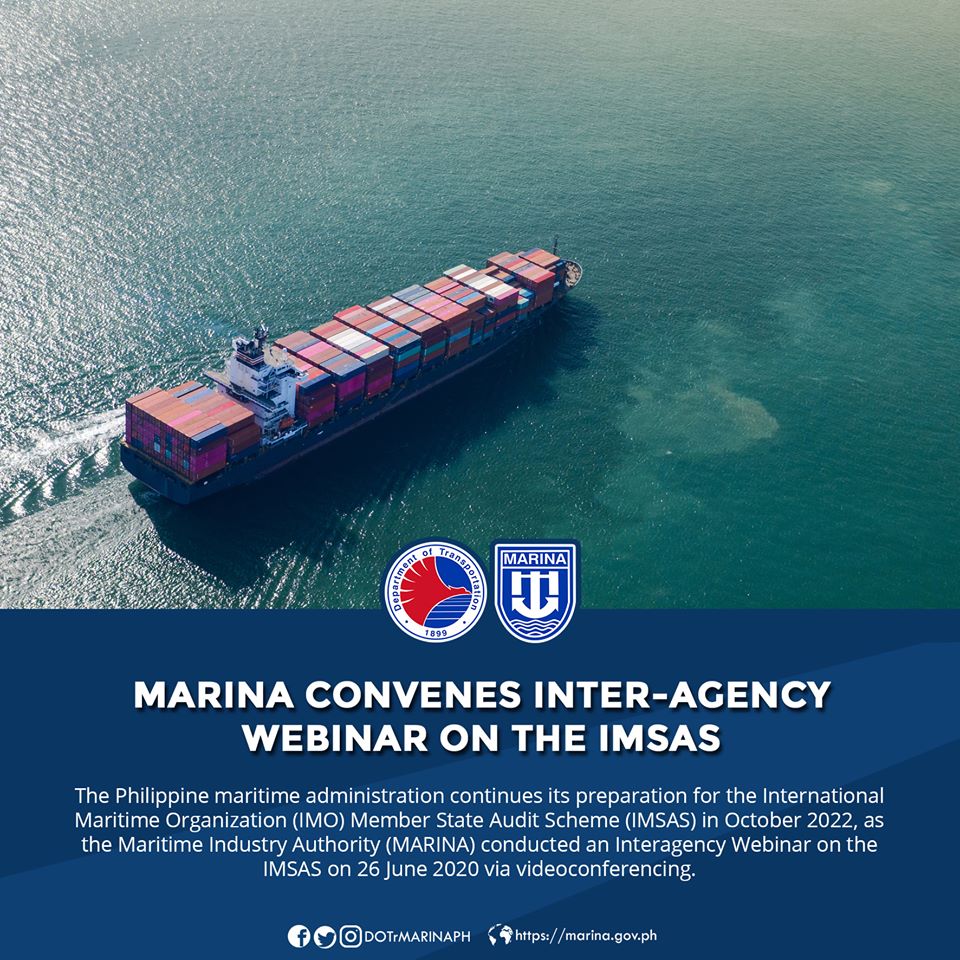 The Philippine maritime administration continues its preparation for the International Maritime Organization (IMO) Member State Audit Scheme (IMSAS) in October 2022, as the Maritime Industry Authority (MARINA) conducted an Interagency Webinar on the IMSAS on 26 June 2020 via videoconferencing.
MARINA Administrator VAdm Robert A Empedrad AFP (Ret) graced the Webinar. In his message, he encouraged the agencies to cooperate and use the concept of "All of Nations Approach" to achieve the objective of becoming a progressive and major maritime nation.
"We should continue raising the standards and be compliant with international conventions and commitments."
One of the country's IMSAS competent person and audit team leaders during the IMSAS Mock Audit, Dir. Jose Venancio A. Vero, Jr., Director of the MARINA Regional Office VI (MRO VI), spearheaded the lecture which aimed to provide a reorientation on IMSAS, address the lack of continuity with respect to IMSAS compliance, and build on the capacity of the technical personnel of the maritime administration.
The webinar focused on the parts and provisions of the IMO Instruments Implementation Code (III Code) as the audit standard, and Framework and Procedures for IMSAS.
Under the III Code, Dir. Vero discussed the objectives, scope, strategy, initial actions, implementation, enforcement, and evaluation, among others of the common areas, flag State, coastal State, and Port State.
Further, Dir. Vero conveyed that the Framework is supported by the Procedures for the IMO Member State audit and the III Code. It likewise aims to explain the objective, principles, scope, responsibilities, and capacity-building aspect of the IMO Member State audit. On the other hand, the Procedures for Member State audit includes, but is not limited to preparation, conduct of the audit, and reporting requirements.
In her closing message, the Deputy Administrator for Operations, Nannette Z. Villamor-Dinopol thanked the sixty-three (63) participants from the Department of Foreign Affairs (DFA), MARINA, Philippine Coast Guard (PCG), Philippine Ports Authority (PPA), Cebu Port Authority (CPA), Office for Transportation Security (OTS), Subic Bay Metropolitan Authority (SBMA), National Telecommunications Commission (NTC), Philippine Atmospheric, Geophysical and Astronomical Services Administration (PAGASA), Philippine National Police (PNP)–Maritime Group and Commission on Higher Education (CHED).
Engr. Dinopol likewise highlighted the recent action during the 2nd Inter-agency Council Meeting on the IMSAS which was held via videoconferencing on 10 June Page 2 of 2 2020, in which the IMSAS Council approved the country's preparatory documents for the said mandatory audit. This includes the Cross Table of Responsibilities which delineates the flag State, port State and coastal State functions in the maritime administration, the draft Philippine Strategy on the Implementation and Enforcement of Relevant IMO Instruments and the revised schedule of activities from 2020 until the audit on October 2022.