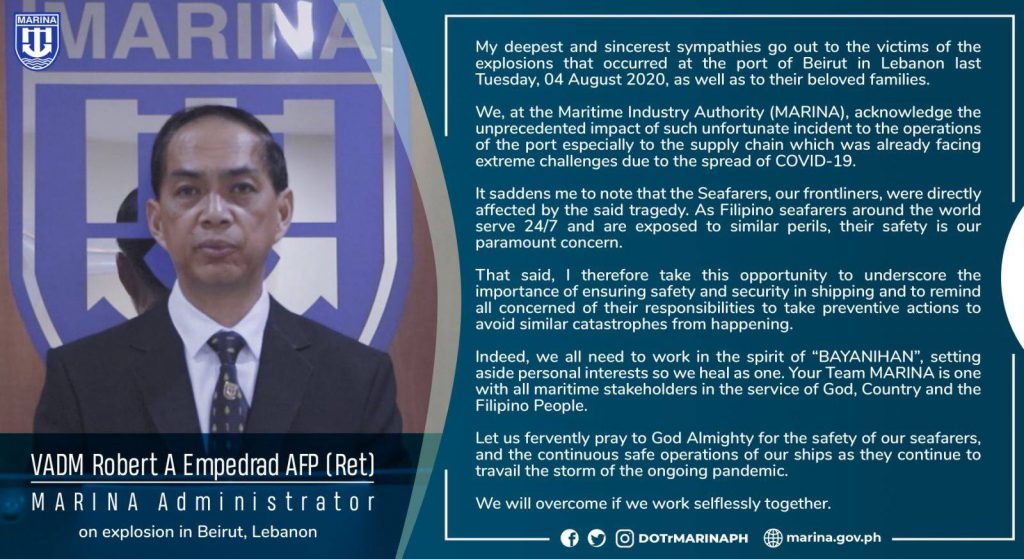 "My deepest and sincerest sympathies go out to the victims of the explosions that occurred at the port of Beirut in Lebanon last Tuesday, 04 August 2020, as well as to their beloved families.
We, at the Maritime Industry Authority (MARINA), acknowledge the unprecedented impact of such unfortunate incident to the operations of the port especially to the supply chain which was already facing extreme challenges due to the spread of COVID 19.
It saddens me to note that the Seafarers, our frontliners, were directly affected by the said tragedy. As Filipino seafarers around the world serve 24/7 and are exposed to similar perils, their safety is our paramount concern.
That said, I therefore take this opportunity to underscore the importance of ensuring safety and security in shipping and to remind all concerned of their responsibilities to take preventive actions to avoid similar catastrophes from happening.
Indeed, we all need to work in the spirit of "BAYANIHAN", setting aside personal interests so we heal as one. Your Team MARINA is one with all maritime stakeholders in the service of God, Country and the Filipino People.
Let us fervently pray to God Almighty for the safety of our seafarers, and the continuous safe operations of our ships as they continue to travail the storm of the ongoing pandemic.
We will overcome if we work selflessly together. 🇵🇭🇵🇭🇵🇭"