MANILA, PHILIPPINES – The Maritime Industry Authority (MARINA) recently issued additional guidelines on the conduct of training programs via 'Blended Learning' mode during General Community Quarantine (GCQ), as a response to the need to provide a platform for our seafarers to complete their required training who may have been directly impacted as a result of quarantine lockdowns that prevented Maritime Training Institutions (MTIs) to deliver their programs face-to-face.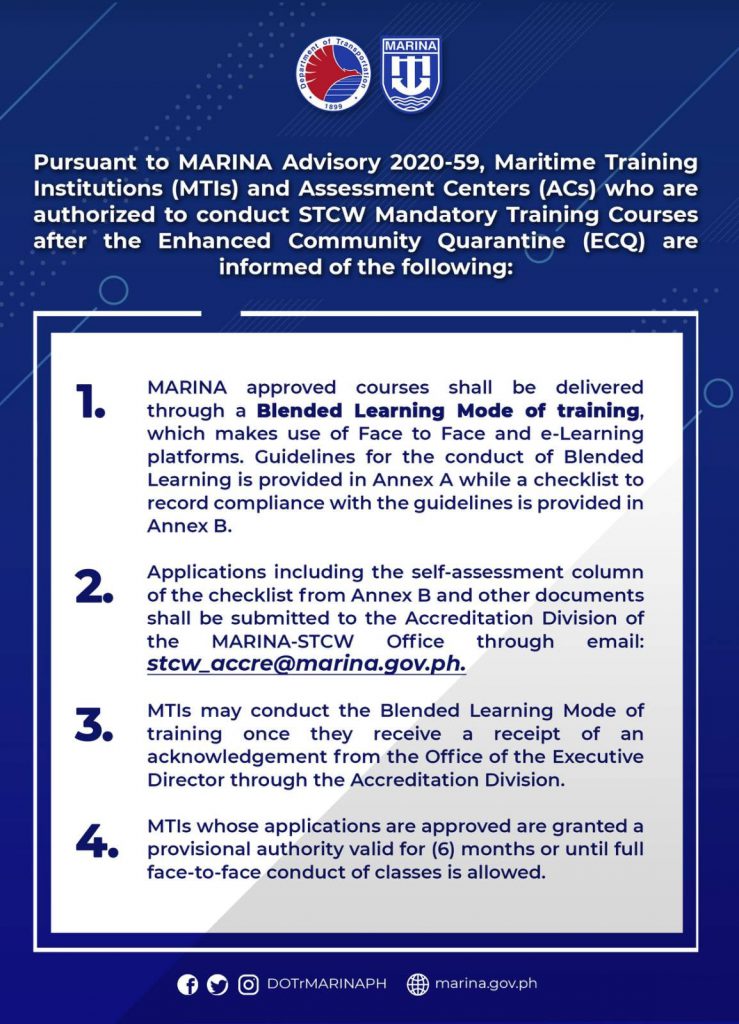 This would now allow all Maritime Training Institutions (MTIs) and Assessment Centers (ACs) who are authorized to conduct STCW Mandatory Training Courses to deliver MARINA approved courses through a Blended Learning Mode of training.
Blended Learning refers to an approach wherein the maritime training program will be conducted through the combination of traditional face-to-face methods and online or e-Learning platforms.
It shall be adopted in delivering the MARINA approved courses that require the use of training equipment and learning systems in performing trainer-supervised practice sessions and/or assessment.
MARINA reminds MTIs to ensure that the coverage of the approved training program is fully met including how the blended learning is to be implemented, facilities and equipment needed to maximize the use of technology to support learning and teaching, and their management responsibilities. MTIs, whose applications are approved, are granted a provisional authority valid for (6) months or until full face-to-face conduct of classes is allowed
Following this development, the MARINA warns seafarers to enroll only in MTIs with approved training programs for blended learning.
Lastly, the MARINA believes to increase its deployment of seafarers as a result of this blended learning scheme and assures the public that the implementation of this approach will be monitored and properly handled to maintain the quality of maritime education in the country despite the rising number of confirmed cases of COVID-19.