MARINA ISSUES NEW RULES ON ISSUANCE OF SPECIAL PERMIT FOR TEMPORARY UTILIZATION OF PH-REGISTERED DOMESTIC SHIPS TO OPERATE IN INT'L VOYAGES
MANILA, PHILIPPINES – To promote the competitiveness of Philippine-registered ships by providing flexibility to their operation, the Maritime Industry Authority (MARINA) has recently issued a new set of rules on the issuance of Special Permit for the temporary utilization of Philippine-registered domestic ships to operate in international voyages.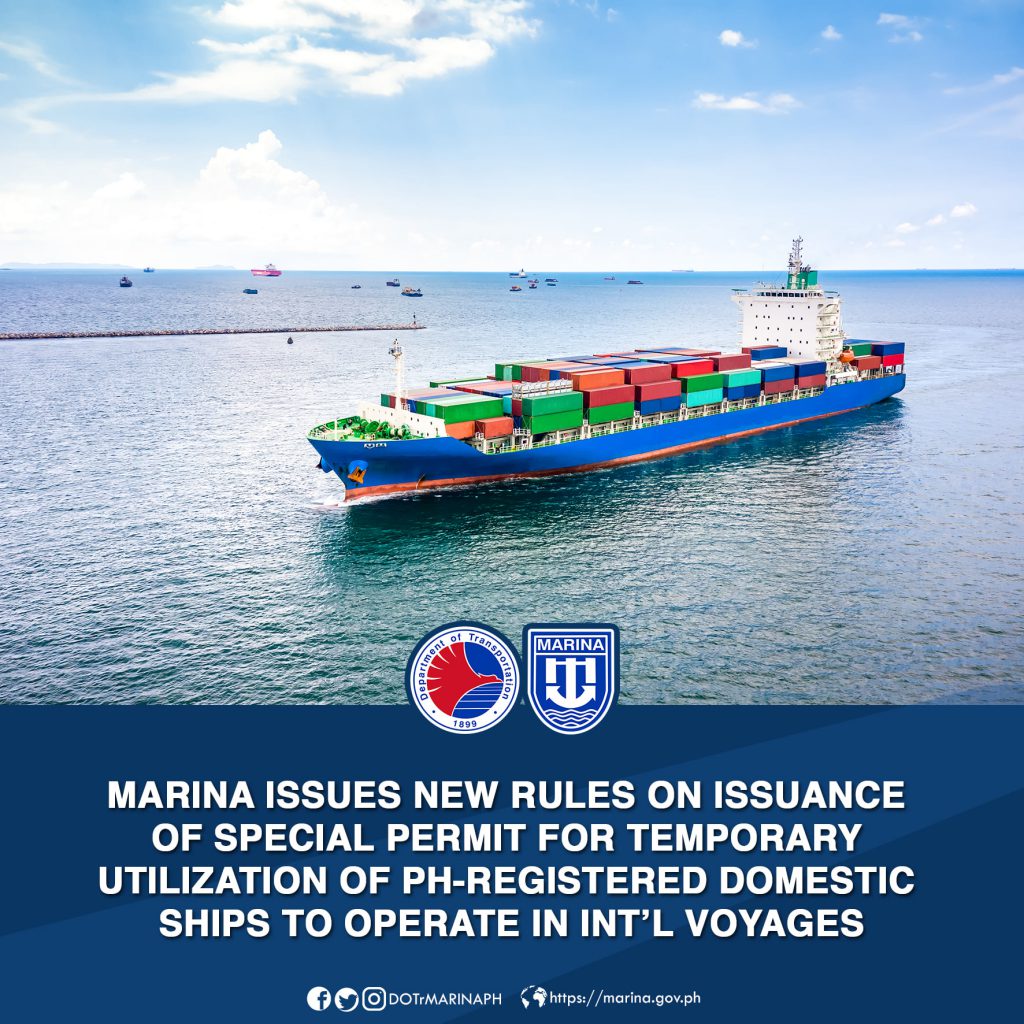 Only those ships with class certificates, whether full or interim, shall be granted Special Permits. However, traditional ships engaged in barter trading or border crossings between the specially designated points in Southern provinces in Mindanao and Palawan shall be exempt from the classification requirement by MARINA accredited class societies.
All applications for the processing of Special Permits shall be filed before the MARINA Central Office Processing Center, except for those ships that will trade in the Brunei Darussalam-Indonesia-Malaysia-Philippines East ASEAN Growth Area (BIMP-EAGA) routes and ports. Applicants serving BIMP-EAGA routes are given the option to file their application at the MARINA Central Office Processing Center and MARINA Regional Offices in Batangas City (Region 4); Zamboanga City (Region 9); Cagayan de Oro (Region 10); Davao City (Region 11) and General Santos City (Region 12).
The Special Permit is valid for one (1) year, unless revoked at any time in case of non-compliance with relevant safety rules and regulations.
CONSISTENCY WITH REGIONAL AGREEMENTS
Non-convention Philippine-registered domestic ships, including traditional ships, may engage in overseas trade in the BIMP-EAGA routes and gateway ports subject to safety standards set out in the Philippine Merchant Marine Rules and Regulations (PMMRR) 1997, and its subsequent amendments. This is consistent to the Memorandum of Understanding (MOU) between the Governments of BIMP-EAGA and the 2018 MOU on the Improvement of Safety Standards and Inspection for Non-Convention Ships Within ASEAN Member States.
The Philippines has designated the following areas as its BIMP-EAGA Gateway Ports: Bongao, Tawi-Tawi; Brooke's Point; Cagayan de Oro; Davao; General Santos; Gian; Pagadian; Puluan; Zamboanga; Siasi and Jolo, Sulu.
Aside from this, MARINA also exercises exclusive jurisdiction over traditional ships without prejudice to the authority of the Bangsamoro Government to regulate barter trade and counter-trade pursuant to Republic Act No. 11054.
REVERSION TO DOMESTIC OR OVERSEAS OPERATION VICE VERSA
Whenever a ship granted with Special Permit reverts its operation either from domestic to overseas operations or vice-versa, the said Special Permit shall be valid for the entire duration of the period it was issued regardless of the ship's reversion.
Upon reversion to domestic trade, the owner/operator shall notify the Administration five (5) days before the planned reversion.
The owner or operator shall likewise inform the Administration five (5) days before its planned reversion to overseas operations. In such a case, it shall be entitled only to the remaining period of the Special Permit.
With this, MARINA assures all the shipping companies and other maritime entities of its full support for the continuation of shipping trade amidst the COVID-19 pandemic not only in the BIMP-EAGA Region but also to its neighboring countries to carry its exports and bring into the much needed supply of goods for the country.
Full text of the MARINA Circular can be downloaded HERE.