MANILA, PHILIPPINES – The Maritime Industry Authority, through its Advisory No. 2020-66, has recently issued a one-year extension of the validity of STCW certificates of Filipino seafarers, as part of the Agency's temporary contingency measure amidst the COVID-19 pandemic.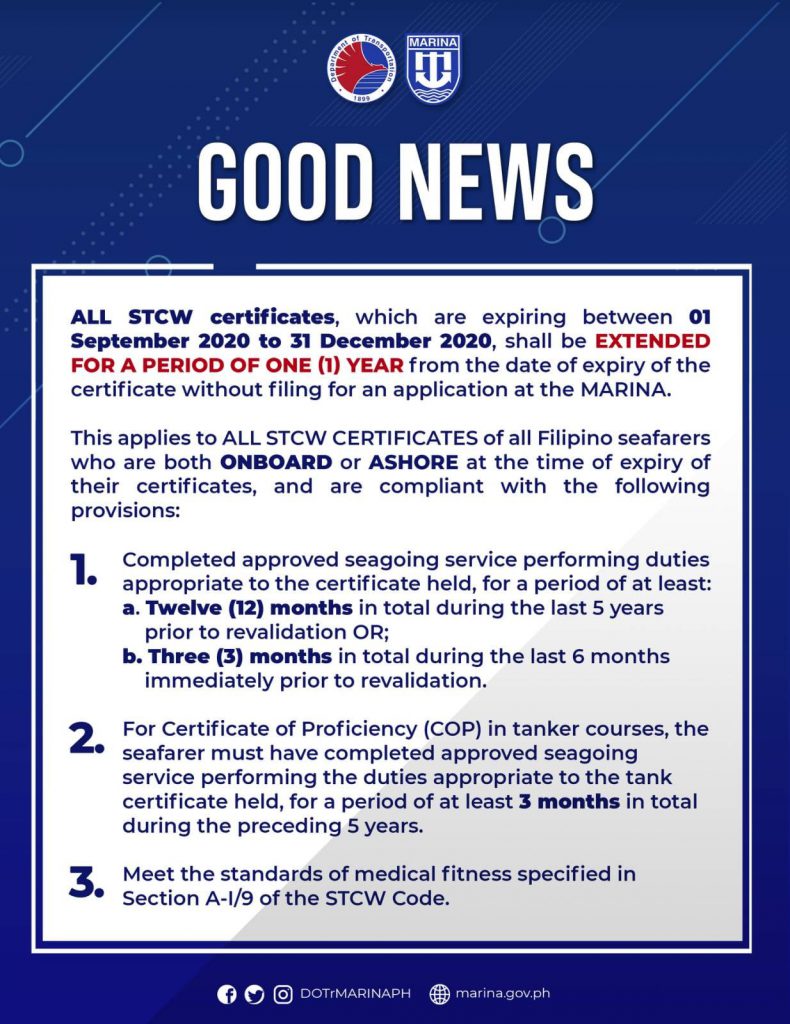 All STCW certificates, which are expiring between 01 September 2020 to 31 December 2020, shall be extended for a period of one (1) year from the date of expiry of the certificate without filing for an application at the MARINA.
This applies to all STCW certificates of all Filipino seafarers who are both onboard or ashore at the time of expiry of their certificates, and are compliant with the provisions that are mentioned by MARINA on its advisory.
Firstly, the seafarer must have a completed approved seagoing service performing duties appropriate to the certificate held, for a period of at least: twelve (12) months in total during the last 5 years prior to revalidation or; three (3) months in total during the last 6 months immediately prior to revalidation.
Meanwhile, for Certificate of Proficiency (COP) in tanker courses, the seafarer must have completed approved seagoing service performing the duties appropriate to the tank certificate held, for a period of at least 3 months in total during the preceding 5 years.
Lastly, the seafarer must meet the standards of medical fitness specified in Section A-I/9 of the STCW Code.
Aside from the provisions mentioned above, all the seafarers are also encouraged to apply for revalidation of their Certificate of Competency (COC) and Certificate of Proficiency (COP) after completing their online/offline courses, as applicable to their certificate to be revalidated at the earliest opportunity, in accordance with the standard requirements for revalidation. The five (5)-year validity date shall be reckoned from the original expiration date of the previous certificate.
On the other hand, the concerned licensed manning agencies and shipping companies are required to ensure that their crew are compliant with the above-mentioned STCW requirements, and are hereby directed to submit to MARINA the list of their crewmember/s whose validity of STCW certificate/s have been extended pursuant to this Advisory. An electronic copy of the said information shall be submitted via e-mail at certificate [email protected] following the attached template in Annex A that can be found in the advisory.
The MARINA has been aware of the challenges in the maritime industry amidst COVID-19 pandemic, especially in terms of conduct of trainings, revalidation of certificates, and ship to shore interactions including crew changes, that is why the Agency is continuously exerting its maximum effort to adapt to the changes without compromising the employment opportunities of Filipino seafarers.