MANILA, PHILIPPINES – The Maritime Industry Authority (MARINA), through its MARINA Advisory No. 2020-83, has recently further extended the revalidation period for STCW Certificates expiring from 13 March 2020 to 31 December 2020 – broader than its previous extension which only covered those COPs and COCs expiring from 13 March 2020 to 31 October 2020.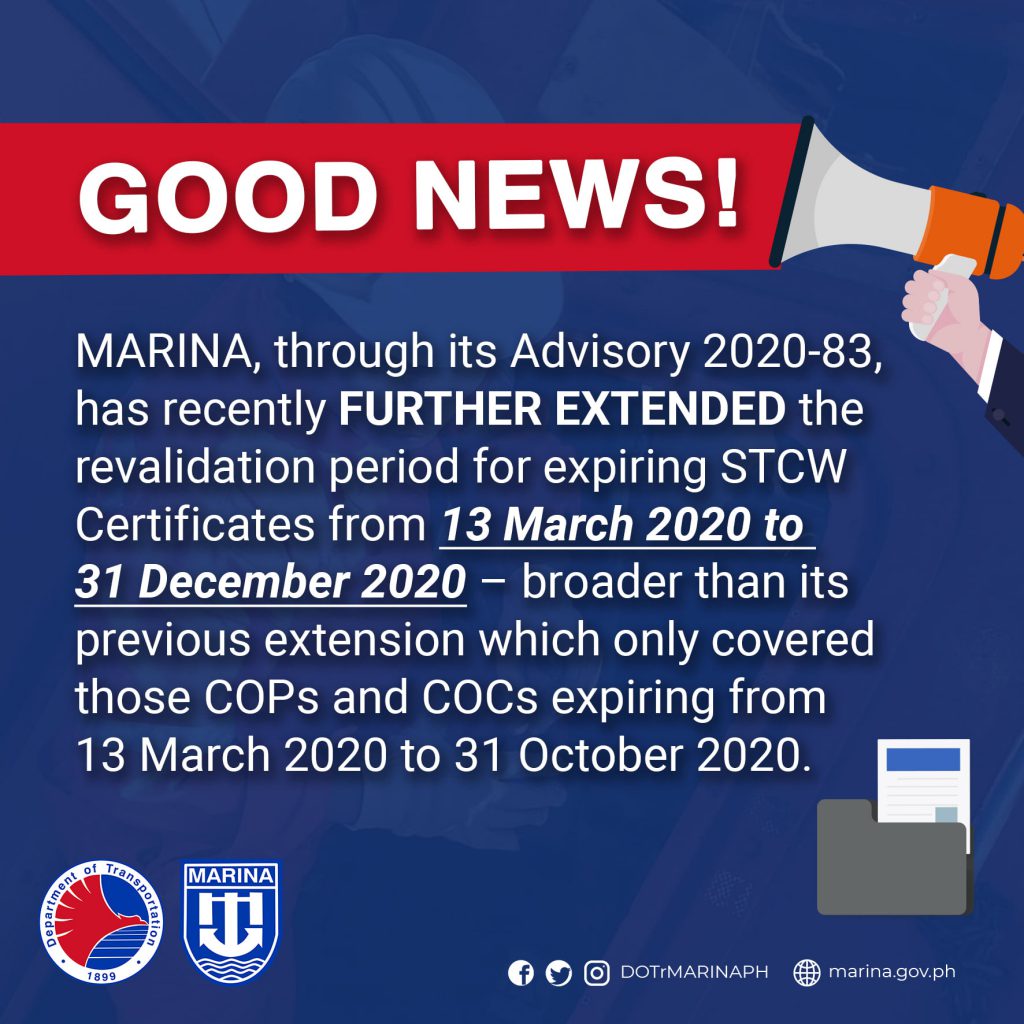 MA 2020-83 provides that all applications for the revalidation of certificates that have expired or are expiring within the said new period will still be processed as revalidation.
Additionally, revalidated Certificates of Proficiency (COPs) and Certificates of Competency (COCs) will be given a five (5) years validity of their issuance, subject to full compliance of the necessary documents.
This issuance is in response to the appeals of maritime stakeholders to facilitate the employment of Filipino seafarers on-board merchant ships.
Applications for the revalidation of STCW certificates without the required refresher training completion certificates and/or practical assessment of competence will still be processed. However, the corresponding COC or COP will only be valid for one (1) year from the date of issuance.
To expedite the processing of applications covered by the Advisory, seafarers may upload their documentary requirements on the MARINA Integrated Seafarers Management Online (MISMO) system. Furthermore, these applications shall be filed for expedited processing only through the accredited Liaison Officer of the concerned licensed manning agency/shipping company.
The extension of the validity of STCW Certificates of one (1) year, particularly those that have expired or are expiring between the period of 13 March 2020 to 31 December 2020, which was issued in the MARINA Advisory 2020-73, still stands. Aside from this, other provisions in previously issued advisories that are contrary to those provided in MA 2020-83 are now revoked.
MARINA continues to monitor the situation for its timely intervention to implement necessary extensions of the validity of statutory certificates to Filipino seafarers as well as other issuances to ensure the protection of Filipino seafarers who currently serving on-board ships and to facilitate the completion of their documents needed for their employment amid the COVID-19 pandemic.
The MARINA encourages, however, seafarers who are ashore to renew their certificates to their 5-year validity as it sees an influx of applications beginning the second quarter of 2021. Around 330,049 seafarers have benefited from these series of extensions and approximately 799,291 STCW certificates are expiring next year.