MANILA, PHILIPPINES – The Maritime Industry Authority (MARINA) has commenced the deployment of the first phase of its online system for domestic shipping dubbed as the "Integrated Domestic Shipping Information System" (IDSIS), and will undergo pilot testing at its Regional Offices at the National Capital Region (NCR), Regional Office 1 & 2 in San Fernando City, La Union and Regional Office No 4 in Batangas City beginning 15 March 2021.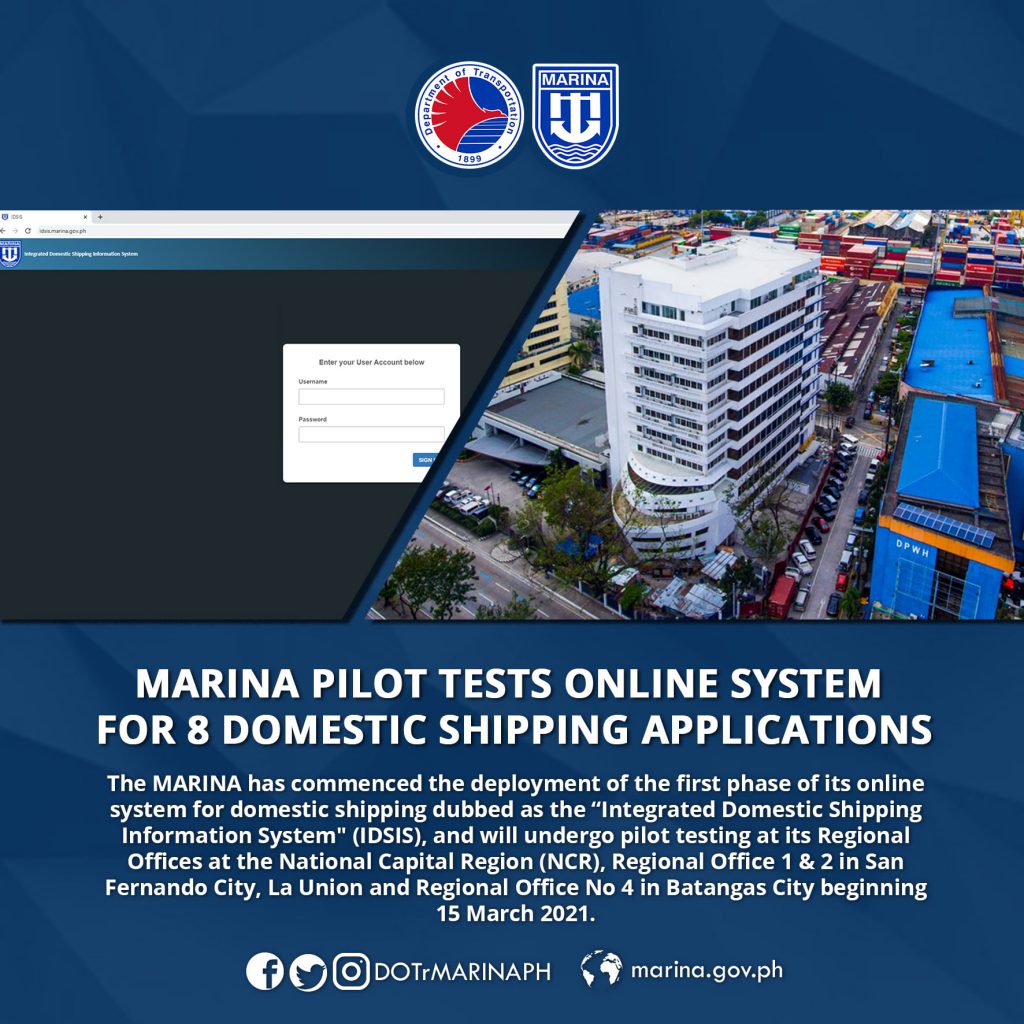 MARINA Administrator Robert A Empedrad said that this is a breakthrough for stakeholders in the domestic shipping industry since they can file and pay their corresponding applications on-line and receive their processed documents online in the form of QR coded e-certificates, which can be easily verifiable online.
"Domestic shipping stakeholders do not need anymore to appear personally at the MARINA to file their applications and to claim their certificates. Proteksyon din nila against COVID-19. Pero ang pinakamahalaga sa lahat ay automated na ang system at maganda itong programa to implement ease of doing business," Administrator Empedrad further said.
The IDSIS is a web-based application system that will automate processing of the different applications filed with MARINA related to domestic shipping related activities covering the following: Accreditation of Maritime Enterprises/Entities; Vessel Name Clearance; Authority to Acquire Ship; Tonnage Measurement Certificate; Vessel Plans Approval; Certificate of Ownership (CO) / Certificate of Philippine Registry (CPR) Certificate; Coastwise License (CWL)/Bay and River License (BRL)/Pleasure Yacht License (PYL); and, Registration of Recreational Boats.
In 2020, the MARINA conducted a series of virtual hands-on training on the system for relevant private sector stakeholders, as well as MARINA users of the system nationwide. Soft implementation of the system for its Regional Offices in the Visayas Region and Mindanao Region is scheduled in April and May this year, respectively.
The MARINA invites relevant domestic shipping stakeholders covered by this pilot implementation to lodge their applications at the IDSIS through https://idsis.marina.gov.ph. The Stakeholders' Manual can be accessed or downloaded HERE.
Full and mandatory implementation of this system is set to take place on 01 January 2022.