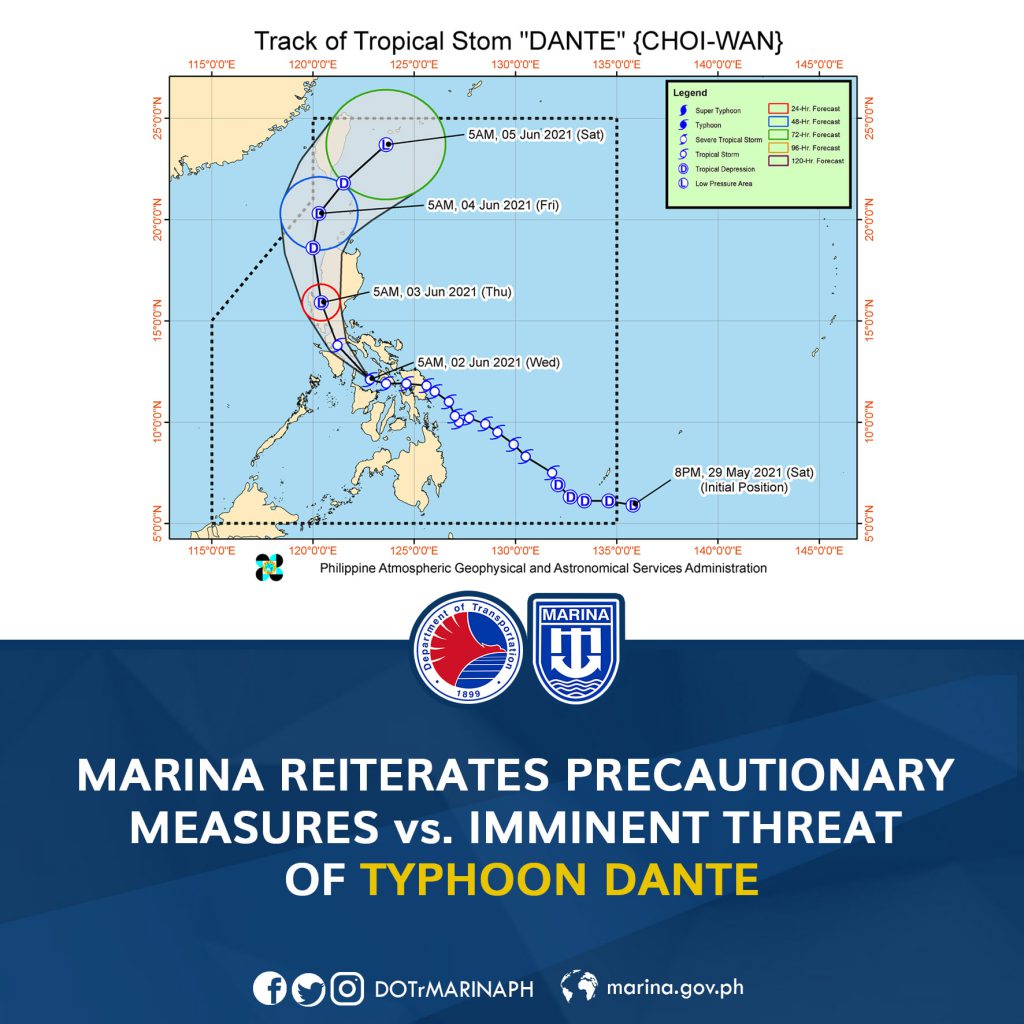 MANILA – The Maritime Industry Authority (MARINA), through its Advisory No. 2021-30, advises domestic shipowners and ship operators to observe the necessary precautionary measures in preparation for the possible inclement weather caused by tropical storm "Dante" which is forecasted to enter the Philippine Area of Responsibility (PAR) later today, 01 June 2021.
Shipowners are advised to monitor and comply with the weather announcements from the Philippine Atmospheric, Geophysical and Astronomical Service Administration (PAGASA) together with the Notices to Mariners issued daily by the NAMRIA and the Philippine Coast Guard relating to sea state and gale warnings.
Additionally, communication equipment should be always be observed closely to maintain safety and avoid disaster on board and at sea. All concerned entities must also ensure compliance with the Strict Implementation of Code of Safety Stowage and Securing in the Domestic Shipping.
Ships should not sail if the port of destination or areas of operations are affected by even the lowest signal of weather disturbance, and shipowners must ensure that their ships have been put to shelter without delay.
The MARINA also urges officers and crew members to be alert at all times. Preparation for abrupt changes in weather conditions is necessary as areas which may have been considered sheltered may quickly become exposed.
As the prompt dissemination information is imperative during typhoons and other weather disturbances, MA 2021-30 also advises that shipowners should follow the warnings and advice of the government forces stationed at the ports of the movement of vessels during the heavy weather.
Lastly, in areas/ports where there are no government regulators, all concerned entities should observe precautions and regulate their operations as deemed necessary. Upon the announcement of even the lowest weather disturbance signal, big and small watercraft should not sail.
To avoid any untoward maritime incidents, MARINA directs all shipowners to comply with relevant advisories that may be issued relating to "no sail" policy, and to continuously conduct safety monitoring and sheltering of their respective ships.