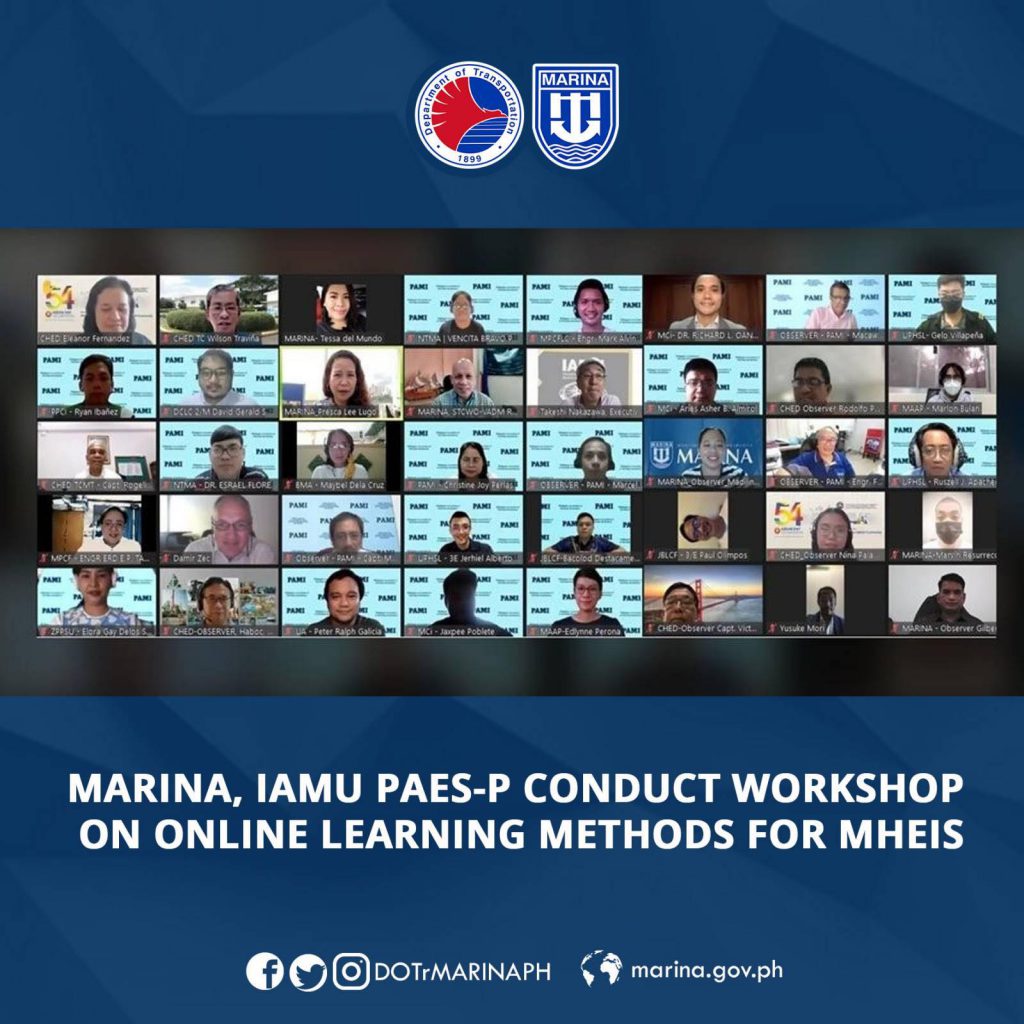 The Maritime Industry Authority (MARINA), together with the International Association of Maritime Universities (IAMU), organized an online workshop entitled, "Online Learning Methods at Maritime Higher Educational Institutions," which is part of the Memorandum of Understanding (MoU) between MARINA and IAMU signed on 2018.
In consideration of the challenges brought about by the ongoing COVID-19 pandemic, the two-session workshop for maritime instructors will be held online. The first session commenced last 31 August until 03 September 2021. Meanwhile, the second session is set to take place from 18 October to 22 October 2021.
The twenty-four (24) participants sourced from accredited Maritime Higher Education Institutions (MHEIs) across the country, were selected through the recommendations made by the Commission on Higher Education (CHED). Prior to joining the workshops, the chosen maritime instructors were screened based on their qualifications, teaching content focus, and location. They were also provided with online theoretical sources, which were free of charge. These participants will eventually be training other maritime instructors across the Philippines.
The series of workshops was primarily initiated by maritime professors from the IAMU, with an overarching objective to provide participants with the necessary knowledge, understanding, and guidance to develop suitable online courses in maritime education. Specifically, the workshops were designed to identify learning methods appropriate for subjects/courses commonly delivered as a part of the STCW-based maritime education curriculum. Once the two workshops are completed, participants are expected to acquire the necessary knowledge adequate for learning in an online environment for a maritime education curriculum.
Furthermore, several learning methods were employed by the workshop facilitators which included PowerPoint presentations, case studies using the Moodle and Canvas Learning Management Systems (LMS), homework assignments, and assessments. Each of these methods was then followed up with a fifteen-minute Q&A discussion. An assessment was carried out before the start of the workshop in order to identify actual participants' schema of the learning methods appropriate for the online environment. They were also evaluated after the workshop to estimate workshop appropriateness.
As part of the training design of the first session workshop, the participants were introduced to the learning methods in maritime higher education, and marine transportation and engineering using the LMS (Moodle and Canvas). Consultations and assigned tasks were given on the proceeding days and a summative assessment concluded the first half of the online workshop.
#DOTrPH🇵🇭
#MARINAPH
#MaritimeSectorWorks