In line with the launching of the online search last 25 June 2021, the Maritime Industry Authority (MARINA) has chosen the esteemed seafarers who will be given recognition as the Exceptional Bravery at Sea Awardees.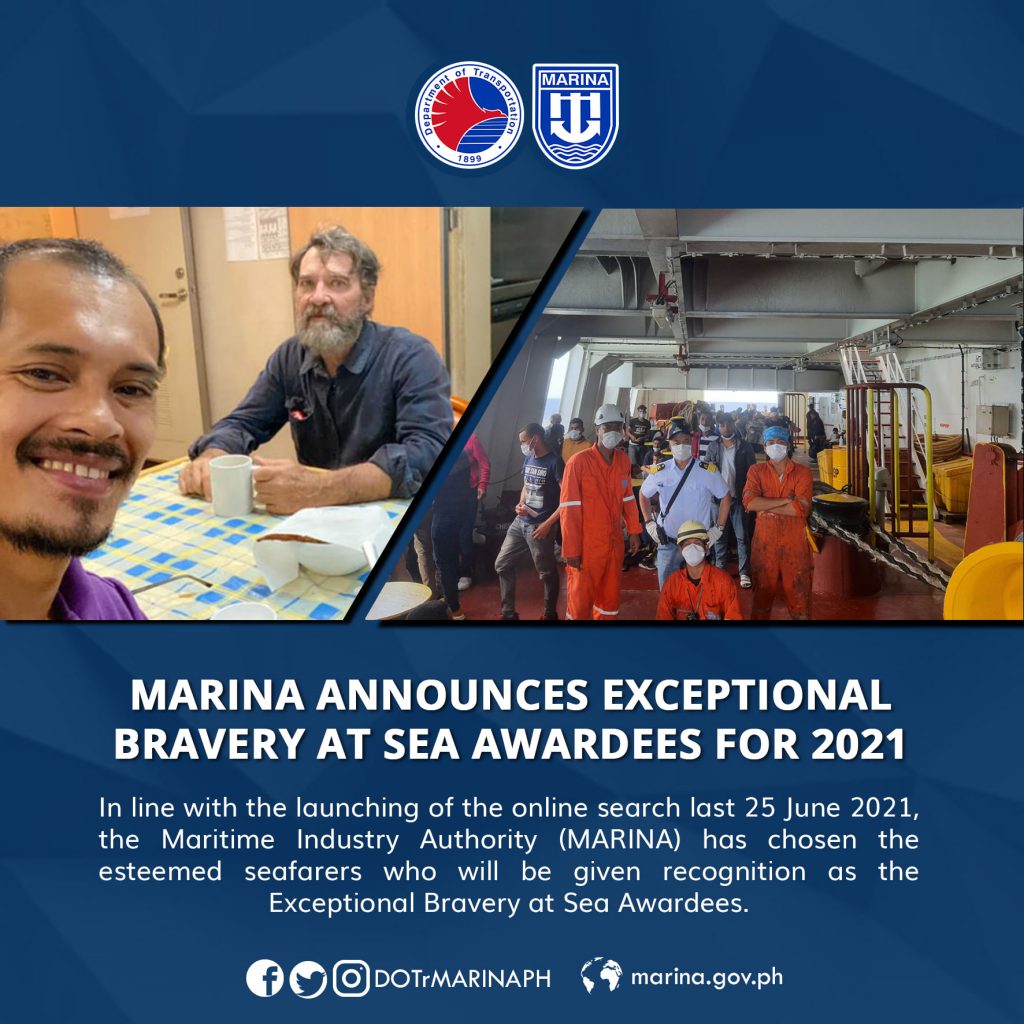 The Agency launched the online search for the Ten (10) Exceptional Bravery at Sea Awardees was established to acknowledge the effort of seafarers who, at the risk of losing their own life, displayed outstanding courage by attempting to save the lives of others or prevent further damage to the marine environment.
The MARINA received two (2) nominations, which the members of the Assessment Panel thoroughly scrutinized.
Subsequently, the Panel of Judges, consisting of top MARINA officials, provided the final verdict and awarded the two seafarers with the highest recognition.
Capt. Melvin J. Villanueva of MV FLEUR N, nominated by the KJCM Maritime Corporation, was recognized for his professionalism and leadership while commanding the search and rescue operations for the 86 refugees found drifting in the Mediterranean Sea.
When asked about the rescue operations he led, he said, "Good decisions and wisdom come from God – a perfect timing to save lives without reservation. After all, it is a team effort." Capt. Villanueva also highlighted the contributions of his fellow officers and crew members, stating that the success of the search and rescue effort would not have been possible without his colleagues.
Also receiving the highest recognition was Second Officer Lacruser P. Relativo of MV ANGELES, who saved the life of Mr. Stuart Bee, who was adrift at sea for two (2) days with his boat almost capsized.
The PTC Group of Companies nominated second Officer Relativo for the compassion and dedication he showed. According to Second Officer Relativo, the rescue of Mr. Bee left a significant impact on his life and will be something he will never forget.
Elaborating about the act of bravery he accomplished, Second Officer Relativo emphasizes that Mr. Bee's story is no different from the countless individuals who are seeking refuge today, especially as the COVID-19 pandemic continues to rage on in the country. "We must lend help in any way that we can, whenever the opportunity to help is present," he says.
Aside from being awarded a certificate of recognition and medal, the awardees will also be given lifelong priority when processing STCW-related applications at the MARINA Central Office, MARINA Regional Offices (MROs), and satellite offices across the country.
The officers and crew of MV FLEUR N will also be given priority lane when applying for any of the STCW-related certificates in all the MARINA Offices as a token of appreciation for their exemplary teamwork, dedication, and professionalism.
The official ceremony for the Exceptional Bravery at Sea Awardees will be held during the National Maritime Week 2021 celebration on 24 September 2021.
#DOTrPH 🇵🇭
#MARINAPH
#MaritimeSectorWorks
#SeafarersAreKeyWorkers
#NationalMaritimeWeek2021