MARINA publishes revised rules, regulations for granting of Pioneer Status, its incentives for domestic shipowners/operators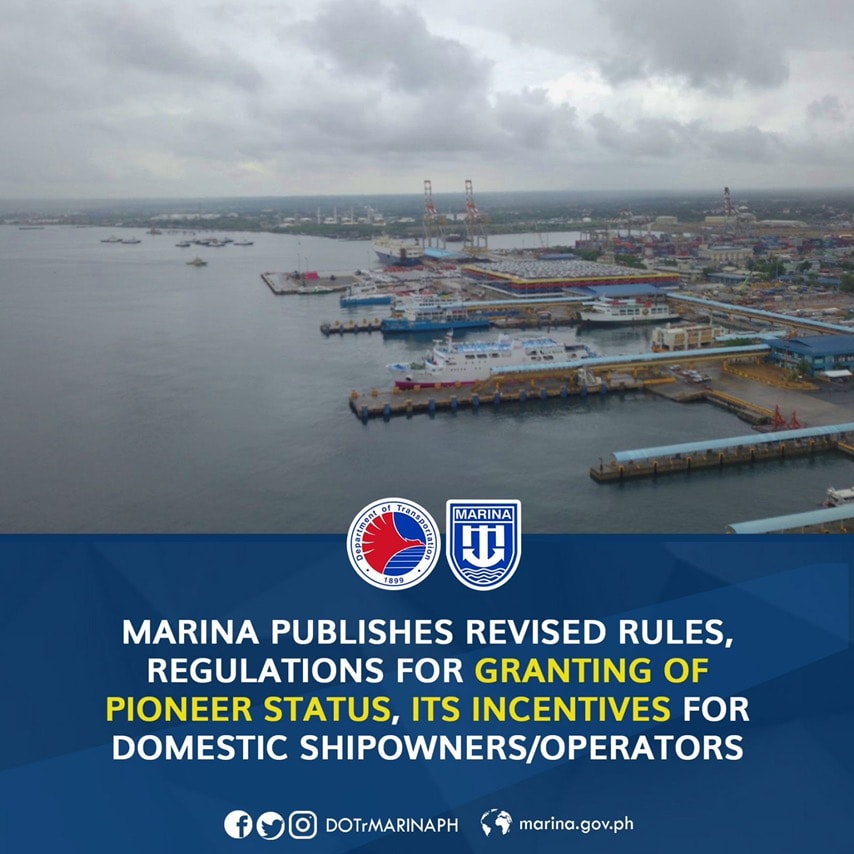 In line with its continued pursuit of providing safer sea transport and improved shipping services, the Maritime Industry Authority (MARINA) has published Memorandum Circular No. DS-2021-03, which discusses the "Revised Rules and Regulations in the Grant of Pioneer Status Under EO 909."
With the publication of MC No. DS-2021-03, new and existing domestic shipowners/operators who will introduce IACS-classed brand new or newly-constructed ships in their respective authorized or applied routes will be granted "Pioneer Status." The abovementioned Circular also applies to all domestic shipowners or operators that intend to invest in RoPax, RORO, cargo, and other ships that have been designed and constructed/maintained by the International Associations of Classification Societies (IACS).
For a ship to be granted Pioneer Status, it must be IACS class maintained for the entire duration of its six (6) years of route protection and must possess an existing Certificate of Public Convenience (CPC). Furthermore, domestic shipowners/operators can file their applications for the "Pioneer Status" at any of the MARINA Regional Offices (MROs) where the ship's existing CPC is issued.
According to the specific provisions of MC No. DS-2021-03, domestic ships that have been granted to operate Pioneer Status routes shall be entitled to incentives. One of these incentives is non-transferrable route protection valid for six (6) years. Additionally, these ships will also be charged only 50% of the regular fees in all applications, renewals of ship documents, licenses, certificates and permits, and Annual Tonnage Fee (ATF) for six (6 years). Finally, ships granted with Pioneer Status will also be given priority in the issuance of CPCs in the routes it proposes to operate.
To qualify for the Pioneer Status, a ship must be classed by an IACS, be a newly-constructed ship built abroad or in a MARINA-licensed shipyard, and must be fully manned by qualified Filipino officers and crew. Additionally, the ship's operator must be a MARINA-accredited maritime entity and an existing CPC grantee. Consequently, documentary requirements necessary for applications include a Letter of Intent, an IACS-Classed Certificate, a Builder's Certificate, and proof of payment for the processing fee per ship.
The implementation of this Circular is one step towards the Agency's efforts in upholding the Maritime Industry Development Plan (MIDP), specifically addressing Program 1 or the "Upgrading of Domestic Shipping in Support of the Philippine Nautical Highway Development." In line with this, the MARINA assures stakeholders and the riding public that it will continue to explore more avenues for the modernization and upgrading of the existing domestic merchant fleet.