MANILA – The Maritime Industry Authority (MARINA), through the directive of the Department of Transportation (DOTR) Secretary Arthur P. Tugade, will start issuing Seafarer's Record Book (SRB) at no cost to seafarer applicants who will be acquiring seaman's book for the first time starting Monday, 07 February 2022.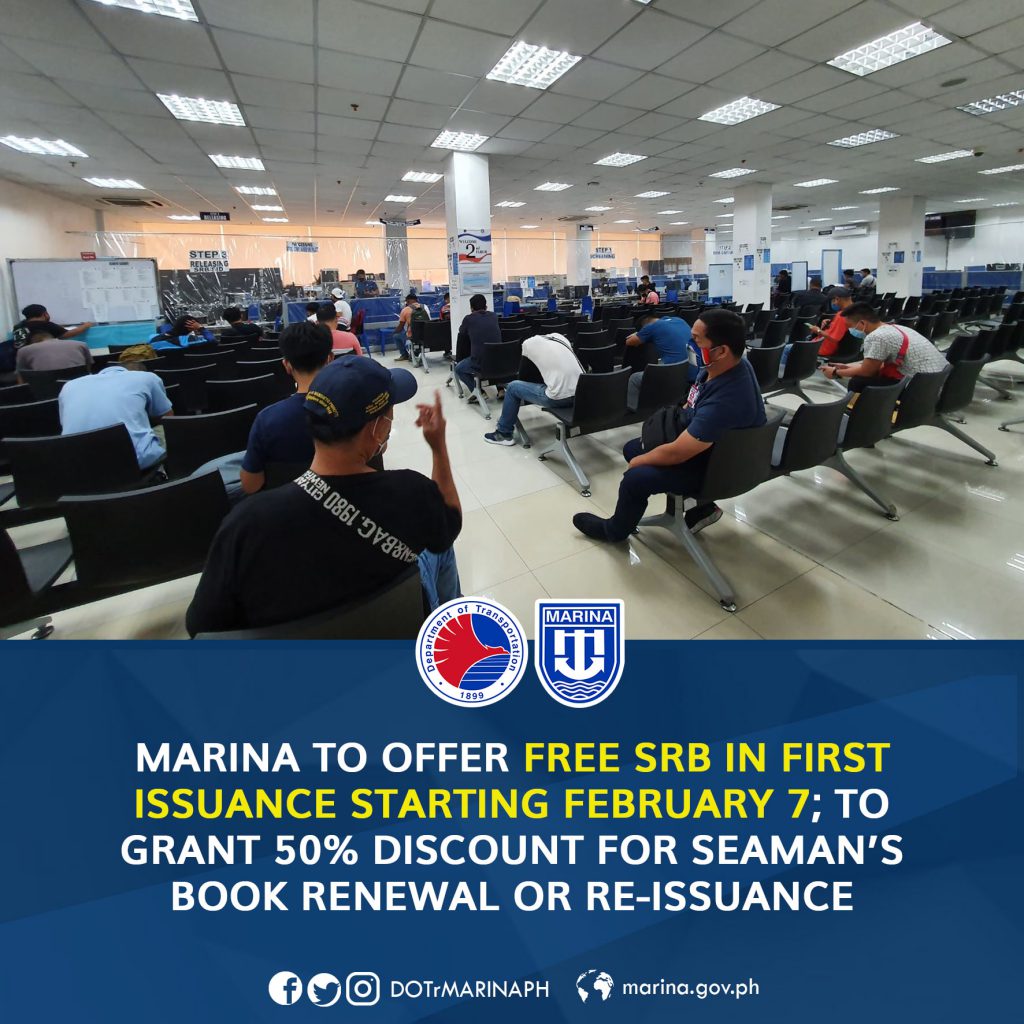 Secretary Tugade shared that during his meeting with President Rodrigo Roa Duterte last 24 January 2022, he reported that the Maritime Industry Authority (MARINA) Board has approved the decision to offer this kind of aid to Filipino seafarers.
"Kasama po sa aking ini-report sa Pangulo na kahapon po ay inaprubahan ng MARINA Board na gawing LIBRE ang pagkuha ng SEAMAN'S BOOK para sa ating mga kababayang seafarer na kukuha nito sa unang pagkakataon. Ang halaga nito dati ay nasa P1,000 to P1,800— LIBRE na 'ho 'yun," Secretary Tugade stated.
During its 290th meeting held on 24 January 2022, the Maritime Industry Board, shall implement guidelines relating to the cost of the issuance and/or renewal/reissuance of SRB/Seafarers Identification and Record Book while the country is under the state of public health emergency.
The guidelines relative to this development is elaborated under MARINA Advisory 2022-06, with a subject, "Cost of Issuance of Seafarer's Record Book (SRB)."
Through this Advisory, the Agency will give the SRB at no cost to the applicant who has never been issued a seaman's book or SIRB previously.
Subsequently, Sec. Tugade also announced that the MARINA Board acceded to a 50% discount on the cost of expiring or expired seaman's book (SRB) renewal or re-issuance of lost or damaged SIRB/SRB booklet until December 2022. This is to aid the seafarers during this time of pandemic and to expand accessibility to the services of MARINA.
"Ito 'ho ang tulong natin sa seafarers, ito 'ho ang isang tulong natin sa ating mga bayani habang may pandemya," Secretary Tugade said.
All SRB applications shall be filed through the MARINA SRB/SID Online Appointment System (OAS) at https://sidsrb.marina.gov.ph. The issued SRB will be valid for ten (10) years from its date of issuance to the seafarer applicant.
Last October 2019, the MARINA also approved free applications for Certificate of Proficiency in Basic Training (COP BT) and Certificate of Proficiency in Ship Security Awareness Training and Seafarers with Designated Security Duties (COP SDSD) for first-time job seekers through MARINA Memorandum Circular No. SC-2019-02.
In the interest of service and in line with the policy of the State, the Agency will continue to proactively seek ways to mitigate the ill-effects of the COVID-19 pandemic to the seafaring community and the maritime industry.
#DOTrPH 🇵🇭
#MARINAPH
#MaritimeSectorWorks