MANILA – The Maritime Industry Authority (MARINA) has received a Program to Institutionalize Meritocracy and Excellence in Human Resource Management (PRIME-HRM) Bronze Award from the Civil Service Commission (CSC), which was promulgated last 26 January 2022.
Based on the validation conducted by the Human Resource Policies and Standards Office (HRPSO) of the CSC, the MARINA was confirmed to have met the PRIME-HRM Level 2-Maturity Indicators of all the four (4) core HRM systems and was found to have observed Civil Service Law and rules on the issuance of appointments and other HR programs, and has maintained its HR records management.
The MARINA was recommended to receive the award in recognition of its excellence in four (4) core human resource management (HRM) systems, practices and competencies, namely: Recruitment, Selection and Placement; Performance Management; Learning and Development; and Rewards and Recognition.
"The MARINA was also found to be compliant with the Civil Service Law and rules in terms of the implementation of the other HR programs and the maintenance of HR record," CSC stated in its Resolution No. 2200155.
With this award, MARINA Management, Financial and Administrative Service (MFAS) Director Nenita S. Atienza expressed her appreciation to the CSC for the award and for the Agency being recognized for its relentless efforts in terms of human resource management.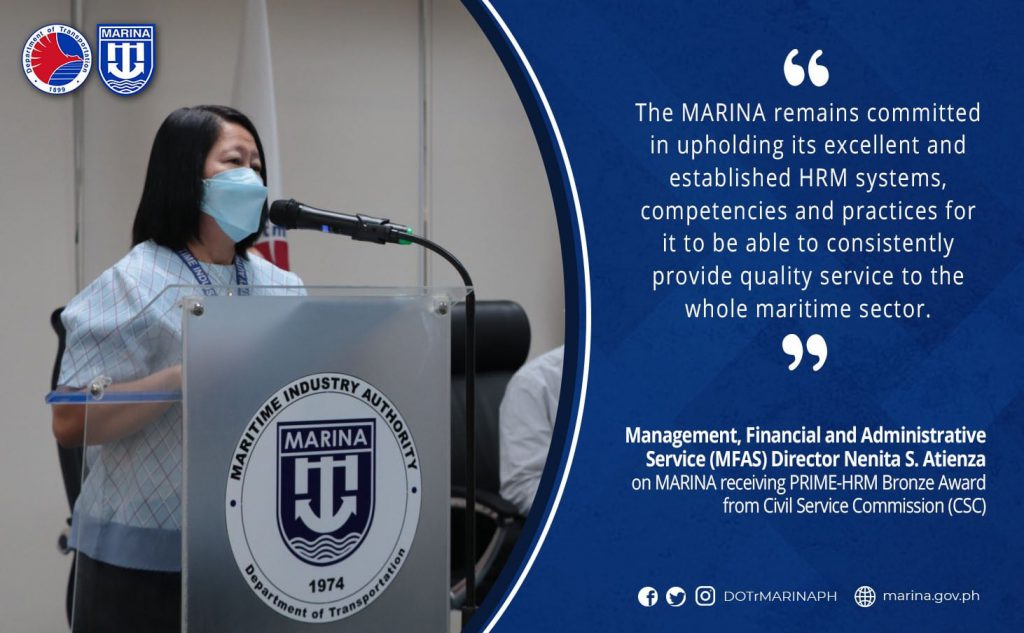 "The MARINA remains committed in upholding its excellent and established HRM systems, competencies and practices for it to be able to consistently provide quality service to the whole maritime sector," Director Atienza said.
For his part, MARINA Administrator Vice Admiral Robert A Empedrad AFP (Ret) stated that the efforts being exerted by the Agency is not only for the institution, but also for the Philippine maritime industry.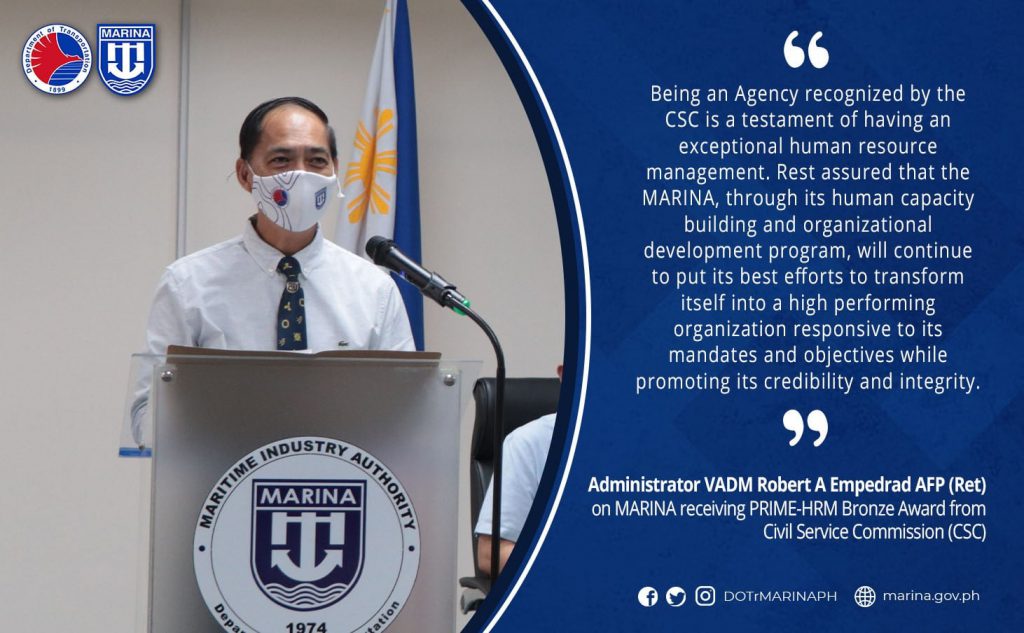 "Being an Agency recognized by the CSC is a testament of having an exceptional human resource management. Rest assured that the MARINA, through its human capacity building and organizational development program, will continue to put its best efforts to transform itself into a high performing organization responsive to its mandates and objectives while promoting its credibility and integrity," Administrator Empedrad said.
PRIME-HRM strategically aligns government agencies' operations in achieving their mandates, vision and mission; empowers the agencies in the performance of human resource management functions; and provides a venue for the exchange and development of expertise in the area of HR among government offices. It also aims to successfully transform the agencies' HRM systems, competencies and practices to elevate public sector HR to a level of excellence for good governance and for efficient and effective public service delivery.
#DOTrPH🇵🇭
#MARINAPH
#MaritimeSectorWorks