Filipino seafarers are bound to benefit from the necessary training aboard a Norwegian tall ship now docked in Philippine waters, Transportation Secretary Jaime Bautista said today, 12 October 2022.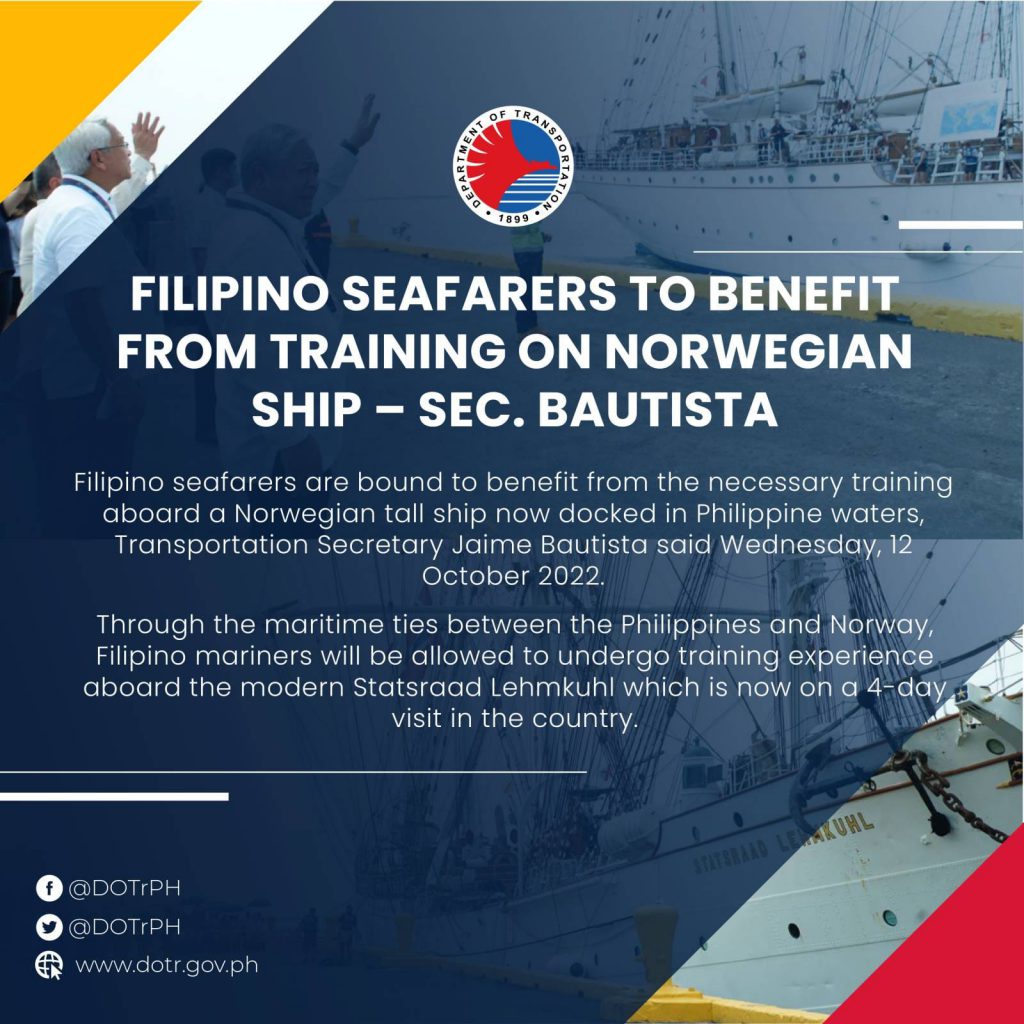 Through the maritime ties between the Philippines and Norway, Filipino mariners will be allowed to undergo training experience aboard the modern Statsraad Lehmkuhl which is now on a 4-day visit in the country.
"This 98-meter-long, 15-hundred-ton training ship is the kind of international standard of basic training that our marine cadets should experience before boarding large commercial vessels," Secretary Bautista said during a welcome ceremony at the Port of Manila.
Apart from the deployment of highly skilled Filipino workers, Secretary Bautista added that the ties between the Philippines and Norway will not be limited to maritime collaboration.
"I hope we can explore other avenues of collaboration not just in maritime training but in other modes of transportation. We can probably learn from the Norwegian experience in extending safe, accessible, comfortable, and affordable transport," Secretary Bautista said.
With the current challenges in the global maritime industry, the maritime relations between the two countries have advanced to the protection of the seas and ocean resources, according to Philippine Ambassador to Norway Enrico Fos.
"The real threats to the oceans, including climate change, marine litter, plastic pollution, unregulated and overfishing, and destructive fishing practices are also real threats to Filipinos like our fisherfolks and seafarers whose lives and livelihood are connected to the country's water resources," Ambassador Fos stated.
Norwegian Ambassador-Designate to the Philippines Christian Halaas Lyster said the Statsraad Lehmkuhl is a good example that the maritime and energy sectors are now more than interconnected.
"It is a 108-year-old tall ship that is equipped with brand-new innovation, a hybrid generator. The new technology means that in theory, the ship can sail for weeks at a time without using the engines, significantly reducing emissions, energy consumption, and noise," Ambassador-Designate Lyster said.
Statsraad Lehmkuhl serves as a floating university/training vessel for maritime students. The six Filipino crew on board represent the over 20,000 seafarers from the country on board Norwegian-owned and operated vessels.
The vessel is currently on a global navigation around the world under 'One Ocean Expedition,' a global campaign that shares knowledge about the importance of the ocean in achieving sustainable development for the future.