PASAY CITY – The Philippines' Maritime Industry Authority (MARINA) has forged a Cooperation Agreement with South Korea's Busan Marine Engineering Association (BUEA) to expand trade and business relationships in the field of shipbuilding and maritime business during a forum on 08 November 2022.
In his opening remarks, MARINA Administrator Atty. Hernani Fabia expressed that the agreement between the Agency and BUEA will further the mutual understanding between the two countries in expanding trade and business relationships in the maritime industry.
As for Transportation Undersecretary for Maritime Elmer Francisco Sarmiento, the agreement will make the "Philippines not be too dependent in terms of importation of ship machinery, equipment, other products and services as the new technology will be introduced under the Cooperation Agreement between our country and South Korea."
With this, the partnership between the two countries is seen to generate job opportunities, as well as to boost the shipping industry in the country. As of this date, there are around 122 shipbuilding, and ship repair entities in the Philippines.
Further, the agreement also compelled both parties to "establish a more comprehensive cooperation in the field of maritime business, including but not limited to, education, technical, consulting, designing, research and development, engineering and construction and trading activities."
The signing of the said agreement between MARINA and BUEA was held during the "Korea-Philippines Ship Technology Development Cooperation Forum." The forum has paved the way to explore various advanced technologies in the shipping market – one of the initiatives the MARINA – Shipyards Regulation Service (SRS) has marked.
The said forum was also attended by distinguished officials and businessmen from South Korea including Nam-gu District, Busan City Mayor Oh Eun-Taek, Pukyong National University (PNU) – LINC3.0 Project Industry-University Cooperation Foundation President Dr. Ryu-Jee-Youl, BUEA Technical Director Mr. Lee Chasoo, PNU- Industry-University Cooperation Foundation Team Member Mr. Choi Seoungkyu, Mr. Kyeongyoon-Yeom of Hyundai Heavy Industries, Korean Offshore and Shipbuilding Engineering Cooperative (KOSEC) Secretary-General Joung-Dom Kim and KOSEC Ambassador Mr. Hyoung Kyu Park.
For the Philippine side, among those who are present in the forum are MARINA Deputy Administrator for Operations Engr. Nannette Villamor-Dinopol, the Directors of MARINA (Central Services and the MROs), Metro Manila Shipyards Association Inc. President Engr. Edward Cruz, the representatives of other government agencies such as the Office of the President, Philippine Navy, Philippine Coast Guard, Department of Transportation, Department of Science and Technology, Department of Environment and Natural Resources, Department of Agriculture, Bureau of Fisheries and Aquatic Resources, Development Bank of the Philippines and the representatives of different shipyards, shipping companies, maritime schools, and media partners.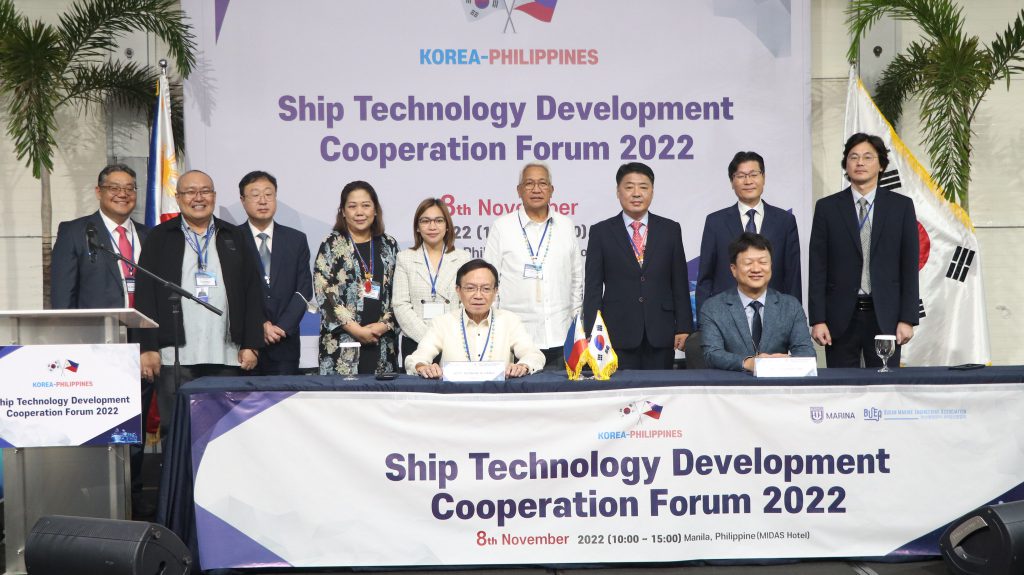 See more photos here.
#DOTrPH🇵🇭
#MARINAPH
#YesToPhSTCWCompliance